Implementasi Extract-Transform-Load (ETL) Data Warehouse Laporan Harian Pool
Abstrak
Abstract - Pool Daily Report (LHP) is a report used by the Operations department and other relevant departments to find out the position, condition, and availability of rental units. In the process, this report is formed by several data sources including from the main system and mobile applications. Differences in data structure and format become the next obstacle faced in the data integration process. The management decision-making process is hampered because the information provided is less relevant, because some of the data is in another database that is different from the database used by the company. The implementation of a data warehouse is one of the efforts to integrate data. Extract-transform-load (ETL) is a method that can be used in a data warehouse to extract, transform, and save data back into the prepared target table. The result of this research is the implementation of the ETL process with a snowflake approach to produce the required dimensions, which are then related to form reports that are in accordance with the wishes of the user.
Keywords- data warehouse, ETL, snowflake, pool daily reports.
Intisari - Laporan Harian Pool (LHP) merupakan laporan yang digunakan oleh departemen Operation dan departemen terkait lainnya untuk mengetahui posisi, kondisi, dan ketersediaan unit sewa. Dalam prosesnya, laporan ini dibentuk oleh beberapa sumber data diantaranya berasal dari sistem utama dan aplikasi mobile. Perbedaan struktur dan format data menjadi kendala berikutnya yang dihadapi dalam proses integrasi data. Proses pengambilan keputusan manajemen menjadi terhambat karena informasi yang diberikan kurang relevan, dikarenakan sebagian data berada pada basis data lain yang berbeda dengan basis data yang digunakan oleh perusahaan. Penerapan data warehouse menjadi salah satu upaya dalam mengintegrasikan data. Extract-transform-load (ETL) merupakan salah satu metode yang dapat digunakan dalam data warehouse untuk mengekstrak, mentransformasi, dan menyimpan kembali data kedalam tabel target yang telah disiapkan. Hasil dari penelitian ini adalah di implementasikannya proses ETL dengan pendekatan snowflake untuk menghasilkan dimensi-dimensi yang dibutuhkan, untuk selanjutnya di relasikan membentuk pelaporan yang sesuai dengan keinginan pengguna.
Kata Kunci— data warehouse, ETL, snowflake, laporan harian pool.
Unduhan
Data unduhan belum tersedia.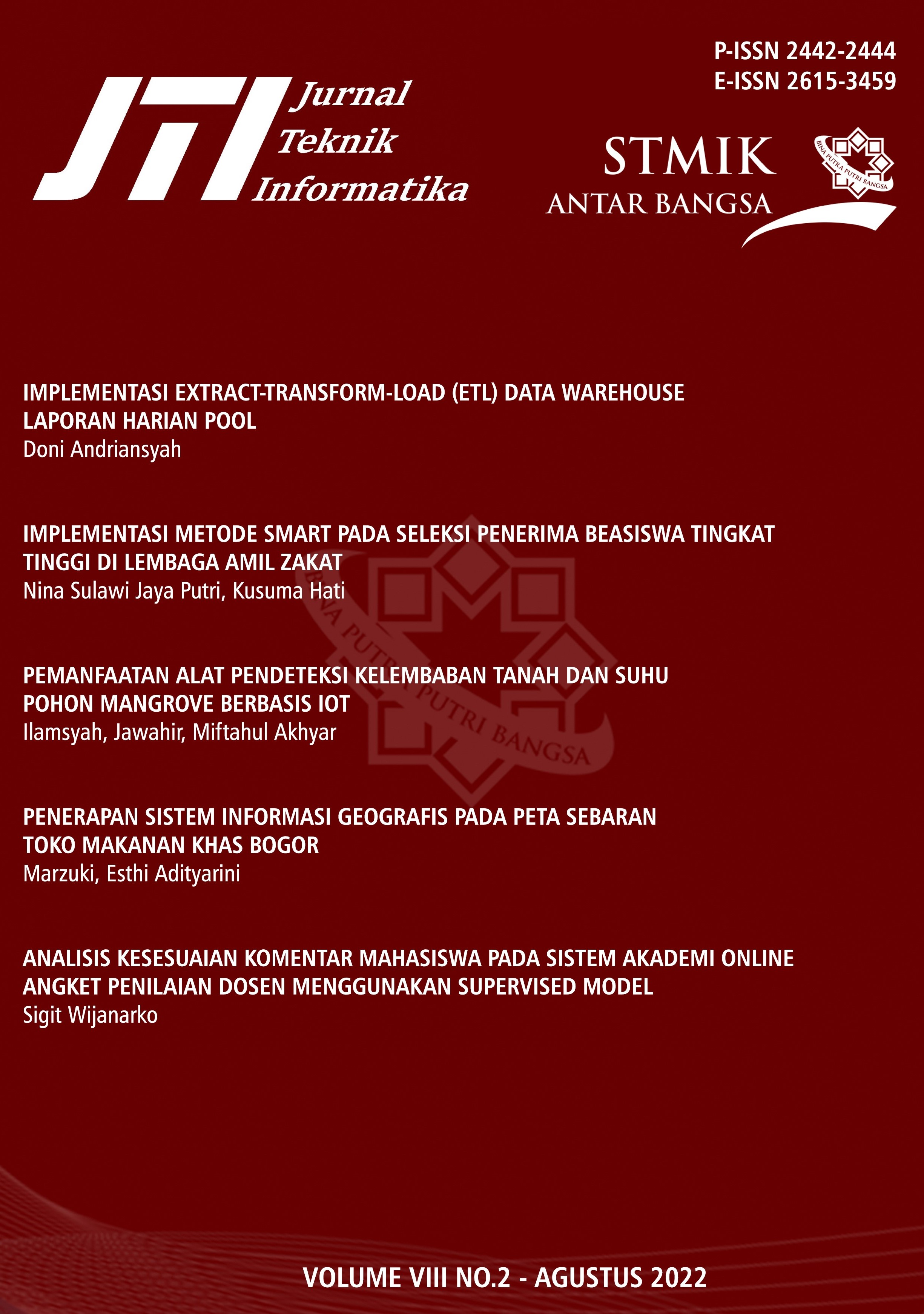 Unduhan
Cara Mengutip
Andriansyah, D. (2022). Implementasi Extract-Transform-Load (ETL) Data Warehouse Laporan Harian Pool. Jurnal Teknik Informatika, 8(2), 45–49. https://doi.org/10.51998/jti.v8i2.486
Lisensi
Hak Cipta (c) 2022 Doni Andriansyah
Artikel ini berlisensi Creative Commons Attribution-NonCommercial 4.0 International License.