SISTEM INFORMASI PENJUALAN BENANG TEKSTIL ACRYLIC BERBASIS WEB (Studi Kasus PT. Acryl Textile Mills Tangerang)
Abstrak
Abstract - Information Systems Sales and Purchases of Goods is a system that provides data information services in the form of sales transactions. In this case, PT. Acryl Textile Mills  used as a place of research, becauseinformation systems salesp roduct that is in place has not beenmanaged well so often goes wrong in making reports, such as data processingsales transactions, transaction data processing, data processing ofgoods, processing members data, Thepurpose of this study is to provide facilities at the time of the data processing product, members, simplify the data processing sale, and minimize errors in data recording. This information system is built to provide convenience in data processingof sales as well as thepurchase of processing sales and purchase reports to be more precise andaccurate.
 
Intisari - Sistem informasi pejualan barang merupakan suatu sistem yang memnerikan layanan informasi yang berupa data transaksi penjualan. Dalam hal ini PT. Acryl Textile Mills di jadikan tempat sebagai bahan penelitian. Karena sistem informasi penjualan produk yang ada tersebut belum terkelola dengan baik, Sehingga sering kali terjadi kesalahan  dalam pembuatan laporan yang ada, seperti proses pengolahan data transaksi penjualan., pengolahan data produk, pengolahan data member. Tujuan penelitian ini adalah untuk memberikan kemudahan pada saat proses pengolahan data produk dan member. Mempermudah dalam pengolahan data transaksi penjualan dan meminalisir kesalahan dalam pencatatan. Sistem informasi ini di bangun agar dapat memberikan kemudahan dalam pengolahan data penjualan serta pengolahan laporan penjualan agar lebih tepat dan akurat.
 
Kata Kunci : Sistem Informasi, Penjualan, Tekstil.
Unduhan
Data unduhan belum tersedia.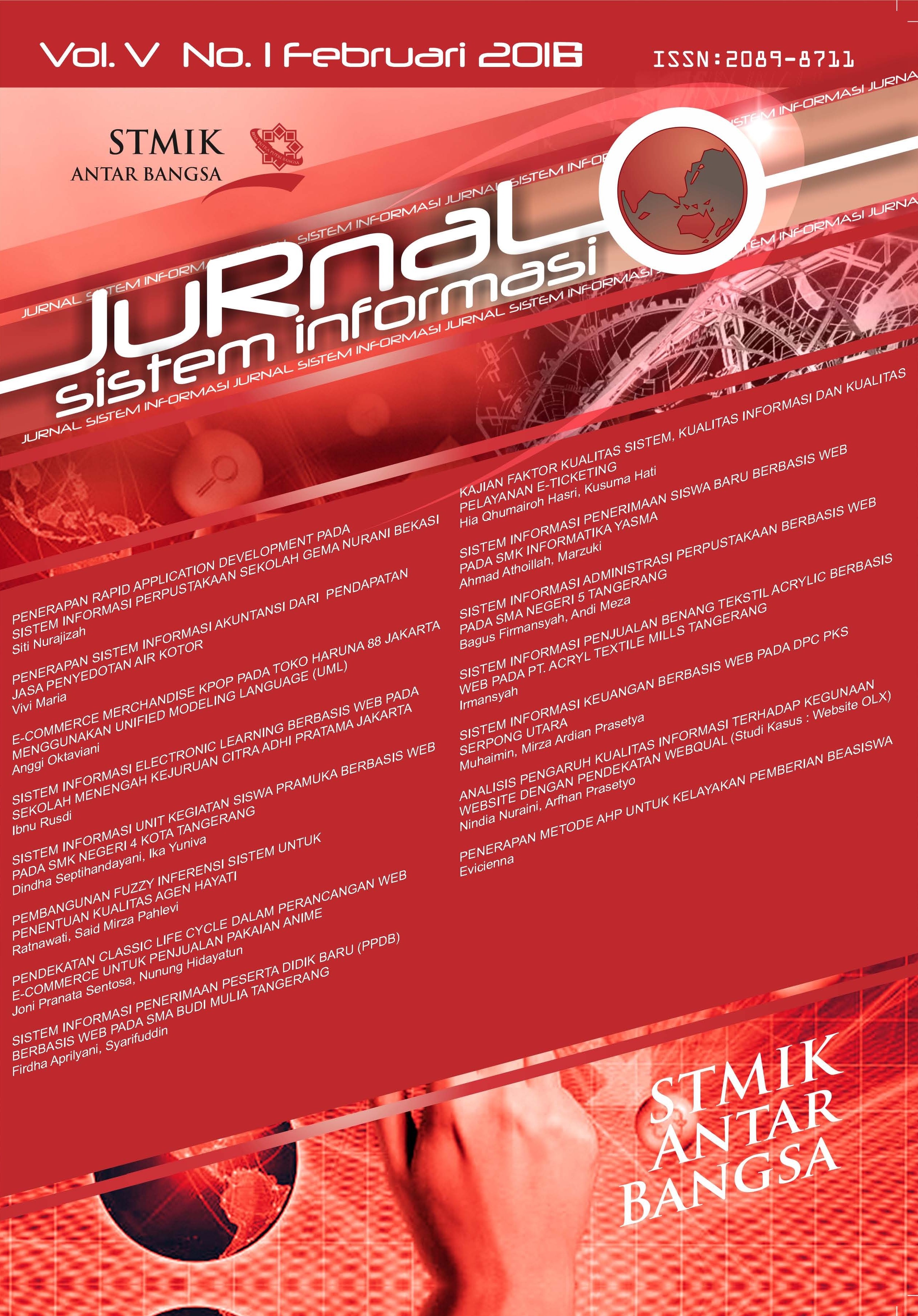 Unduhan