SISTEM INFORMASI AKADEMIK PADA SMK YAYASAN PEMBANGUNAN PENDIDIKAN BEKASI
Abstrak
ABSTRACT— Advances in technology today is mainly based on the Internet is very helpful in providing information quickly and easily. Many found from schools that do not use the internet to provide information about the school such as new student enrollment, academic value information, and activities that exist in school. SMK YPP (Yayasan Pembangunan Pendidikan) Bekasi is one of the schools that do not have a system of information via the internet and feels is in need of a web-based information system in order to provide better convenience for teachers, students, and the community. In designing a web based academic system used waterfall method, the use of this information system provides easy access to information, values, and activities that will take place, besides the author using the program tools UML (Unified Modeling Language) for smooth understanding. Keywords: Information Systems, waterfall, UML.
Intisari— Kemajuan teknologi saat ini terutama berbasis internet sangat membantu dalam memberikan informasi secara cepat dan mudah. Banyak ditemukan dari sekolah-sekolah yang belum memanfaatkan internet untuk memberikan informasi mengenai sekolah seperti pendaftaran siswa baru, informasi nilai akademik, dan kegiatan-kegiatan yang ada disekolah. SMK YPP (Yayasan Pembangunan Pendidikan) Bekasi adalah salah satu sekolah yang belum memiliki sistem informasi melalui internet dan dirasa sangat memerlukan sistem informasi berbasis web guna memberikan kemudahan baik untuk pengajar, siswanya, maupun masyarakat. Dalam merancang suatu sistem akademik berbasis web ini digunakan metode waterfall, penggunaan sistem informasi ini memberikan kemudahan dalam mengakses informasi, nilai, dan kegiatan yang akan berlangsung, selain itu penulis menggunakan tools program UML (Unified Modelling Language) demi kelancaran pemahaman.
Unduhan
Data unduhan belum tersedia.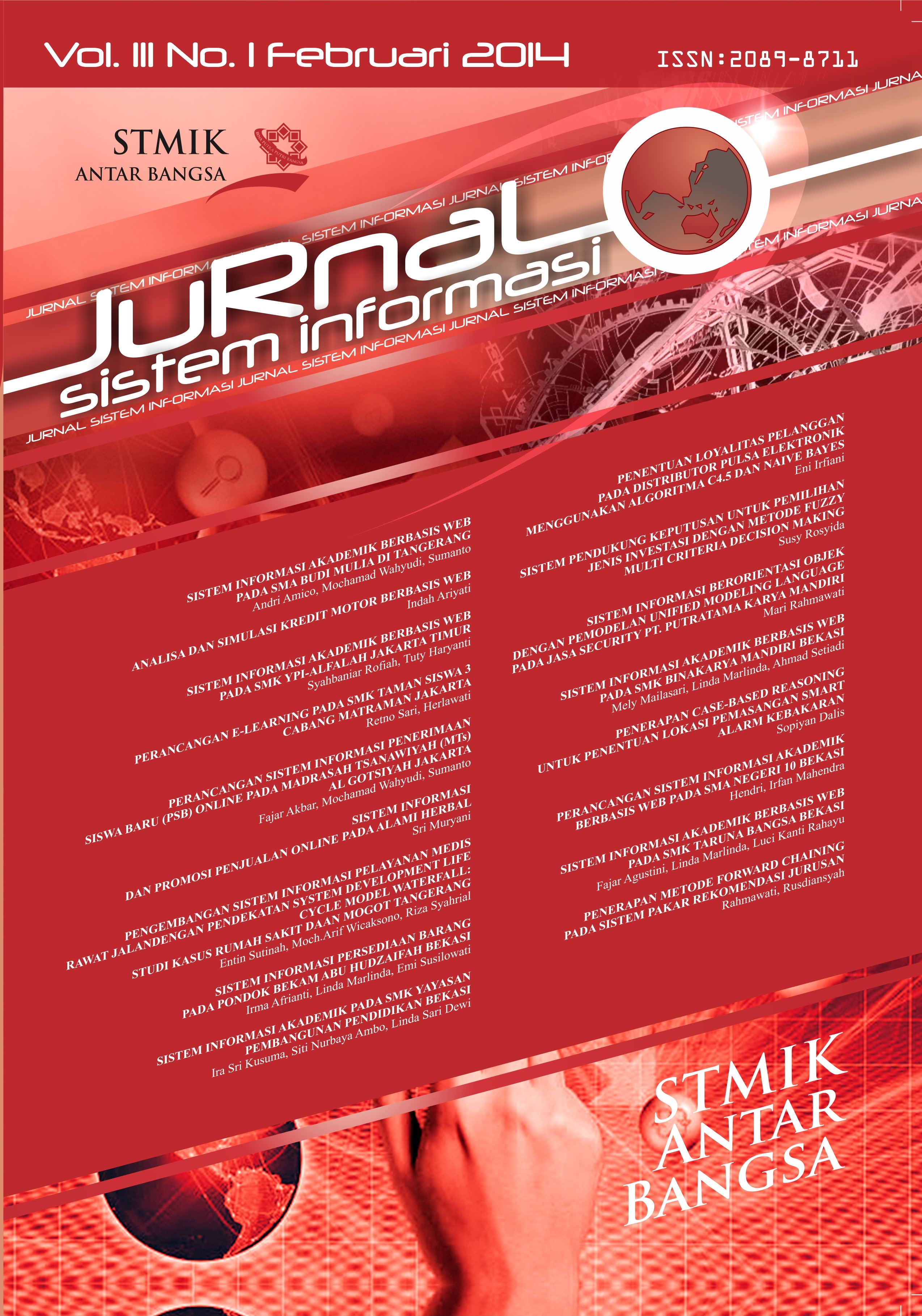 Unduhan
Lisensi
Hak Cipta (c) 2021 Ira Sri Kusuma, Siti Nurbaya Ambo, Linda Sari Dewi
Artikel ini berlisensi Creative Commons Attribution-NonCommercial 4.0 International License.