Pengolahan Data Akuntasi pada PT. Sertifikasi Usaha Pariwisata Indonesia Jakarta
Abstrak
Abstract—In a company, accounting data processing is one thing that is very important for the continuity running of the company's business for nearly all activities and transactions are always related to accounting. However, there are still many companies that have not been able to process data accounting so well that sometimes detrimental to the company itself. PT. Sertifikasi Usaha Pariwisata Indonesia Jakarta is a hotel certification. In the data processing accounting company was still using Microsoft Excel, causing several problems, including susceptibility occurred error or mistake in the process of inputting the data, the result of the calculation is often inaccurate, data security is less assured and the process of making financial reports still take quite a long time so as to make working time becomes inefficient. Therefore, in order to resolve the problems faced will require a special application to process financial data, one of which is the ZahirAccounting. Zahir Accounting is an accounting program that help the company in providing financial information needed to quickly and accurately. By using Zahir Accounting application is expected to resolve the company's problems in the processing of financial data such as an error in the process of inputting data can be minimized, the calculation results become more precise and accurate, data security is guaranteed as well as the financial reporting process becomes faster and more efficient.

 

Intisari— Dalam sebuah perusahaan, pengolahan data akuntansi merupakan salah satu hal yang sangat penting untuk kelancaran usaha perusahaan karena hampir semua kegiatan dan transaksi selalu berhubungan dengan akuntansi. Akan tetapi, masih banyak perusahaan yang belum bisa mengolah data akuntansinya dengan baik sehingga terkadang merugikan perusahaan itu sendiri. PT. Sertifikasi Usaha Pariwisata Indonesia Jakarta merupakan sebuah perusahaan yang bergerak di bidang jasa sertifikasi hotel. Dalam pengolahan data akuntansinya masih menggunakan Microsoft Excel sehingga menimbulkan beberapa permasalahan, diantaranya rawannya terjadi kesalahan ataupun kekeliruan dalam proses penginputan data, hasil dari perhitungan seringkali tidak akurat, keamanan data kurang terjamin serta proses pembuatan laporan keuangan masih memakan waktu yang cukup lama sehingga membuat waktu kerja menjadi tidak efisien. Guna menyelesaikanpermasalahan yang dihadapi maka diperlukan sebuah aplikasi khusus untuk mengolah data keuangan, salah satunya adalah Zahir Accounting. Zahir Accounting adalah program akuntansi yang sangat membantu perusahaan dalam menyediakan informasi keuangan yang dibutuhkan dengan cepat dan akurat. Dengan menggunakan aplikasi Zahir Accounting diharapkan dapat menyelesaikan permasalahan perusahaan dalam pengolahan data keuangannya seperti kesalahan dalam proses penginputan data bisa diminimalisir, hasil perhitungan menjadi lebih tepat dan akurat, keamanan data lebih terjamin serta proses pembuatan laporan keuangan menjadi lebih cepat dan efisien.

 

Kata Kunci: Pengolahan data akuntansi, ZahirAccounting.
Unduhan
Data unduhan belum tersedia.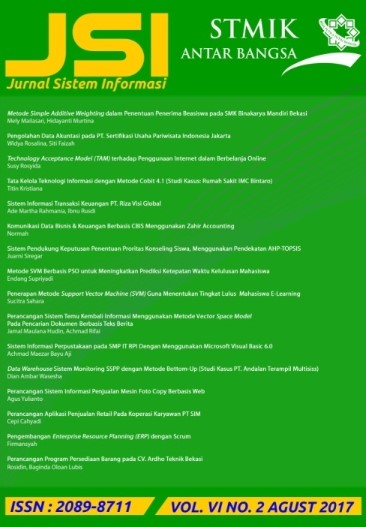 Unduhan