SISTEM INFORMASI PENERIMAAN PESERTA DIDIK BARU (PPDB) BERBASIS WEB PADA SMA BUDI MULIA TANGERANG
Abstrak
Abstract-SMA Budi Mulia is currently experiencing difficulties in data processing acceptance of new learners, this is due to the storage and recording media are still using manual systems that only use Microsoft Word or Microsoft Excel. The purpose of this thesis is to complete the requirements to graduate as a computer in Studies Program Information System STMIK Antar Bangsa Tangerang. The purpose of the application to be designed and built is to learn how the system procedures mechanisms admission of new students at SMA Budi Mulia into computerized systems and web-based. The design of the system used is using UML, a tool used to design the system in the form of ERD, Actifity Diagram, LRS. While the database application development tool using MySQL and PHP programming language to use. Designed system is expected to help the user to obtain information faster, precise and accurate information on the registration of new students see the prospective applicants, and also print a document in the form of bio PPDB.
Intisari-SMA Budi Mulia mengalami kesulitan di dalam pengolahan data penerimaan peserta didik baru, hal ini disebabkan media penyimpanan dan pencatatan masih menggunakan sistem manual yang hanya menggunakan Microsoft Word atau Microsoft Excel. Adapun tujuan penulisan skripsi ini adalah untuk melengkapi sebagai persyaratan menjadi sarjana komputer pada Program Studi Sistem Informasi STMIK Antar Bangsa Tangerang. Tujuan dari aplikasi yang akan dirancang dan dibangun adalah untuk mempelajari bagaimana mekanisme prosedur sistem penerimaan peserta didik baru di SMA Budi Mulia menjadi sistem yang terkomputerisasi dan berbasiskan web. Perancangan sistem yang digunakan adalah menggunakan metode UML, alat yang digunakan untuk merancang sistem berupa ERD, Actifity Diagram, LRS. Sedangkan alat pembangunan aplikasi database menggunakan MySQL dan bahasa pemograman menggunakan PHP. Sistem yang dirancang diharapkan dapat membantu user untuk memperoleh informasi lebih cepat, tepat dan akurat mengenai pendaftaran peserta didik baru melihat calon pendaftar, dan juga mencetak dokumen berupa biodata PPDB.
 
Kata Kunci :
Sistem Informasi, Peserta Didik, Web
Unduhan
Data unduhan belum tersedia.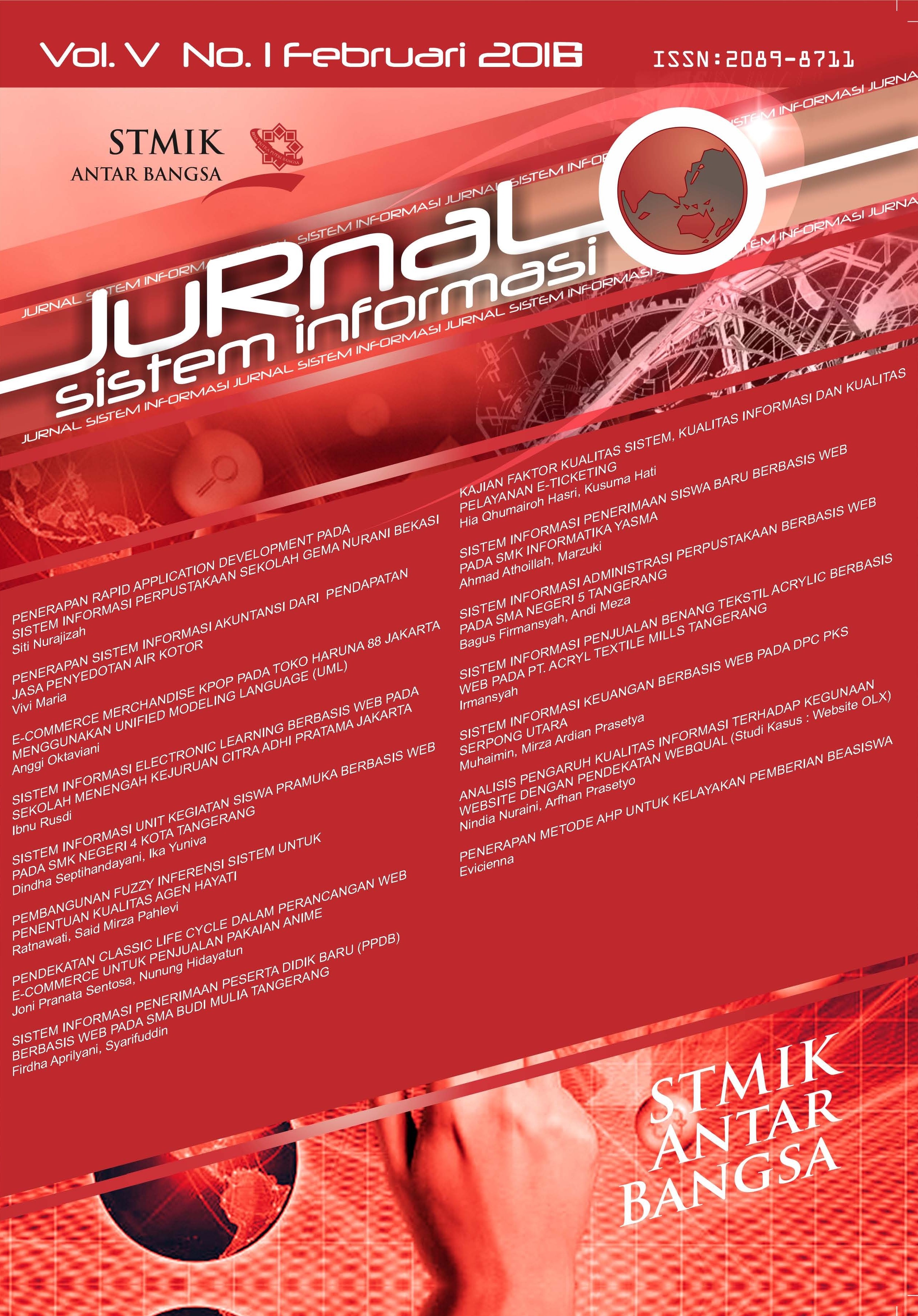 Unduhan