Penerapan Sistem Pendukung Keputusan Pemilihan Guru Terbaik Menggunakan Metode Analytical Hierarchy Process
Abstrak
Abstract— In determining the best teacher, there are several factors in the assessment. This assessment is based on teacher performance assessments at the Prosperous Vocational High School and internal activities. For the sake of efficiency and effectiveness of work, the right decision-making is needed. To build and provide alternatives. The decision support system is a system that can analyze alternatives for selecting the best teachers using the Analytical Hierarchy Process method, where there are several criteria used, namely Achievement, Quality, Discipline, Responsibility, Yeand ars of Service for the selection of teachers whom ho each have a weight assessment to provide teacher assessment results which provide an assessment of each of the best teacher performance. This decision support system helps and provides alternatives in assessing each teacher. The final result is obtained from the calculation process, namely the sum of the normalized matrices with weights per criteria, which shows the best teacher selection ranking n from the first to the last of the criteria. From this assessment, it becomes an alternative.
Intisari—Dalam penentuan guru terbaik, terdapat beberapa faktor yang menjadi penilaian. Penilaian ini berdasarkan penilaian kinerja guru di SMK Sejahtera dan aktivitas internal. Demi efisiensi dan efektifitas kerja maka pengambilan keputusan yang tepat sangat diperlukan. Dengan tujuan untuk membangun dan memberikan alternatif. sistem pendukung keputusan merupakan sebuah sistem yang mempunyai kemampuan analisa alternatif untuk pemilihan guru terbaik dengan menggunakan metode Analytical Hierarchy Process, dimana ada beberapa kriteria yang digunakkan yaitu Prestasi, Mutu, Disiplin,Tanggung Jawab, Masa Kerja untuk pemilihan guru yang memiliki masing- masing memiliki bobot penilaian sehingga memberikan hasil penilaian guru yang memberikan penilaian terhadap setiap kinerja guru terbaik. Sistem pendukung keputusan ini membantu dan memberikan alternatif dalam melakukan penilaian setiap guru. Hasil akhir diperoleh dari proses perhitungan, yaitu penjumlahan dari matriks ternormalisasi dengan bobot per kriteria yang menunjukan rangking pemilihan guru terbaik dari pertama hingga yang terakhir dari kriteria. Dari penilaian tersebutlah menjadi alternatif yang kemudian mendapat guru Terbaik.
Kata Kunci— Sistem Pendukung Keputusan, Guru Terbaik, Analytical Hierarchy Process
Unduhan
Data unduhan belum tersedia.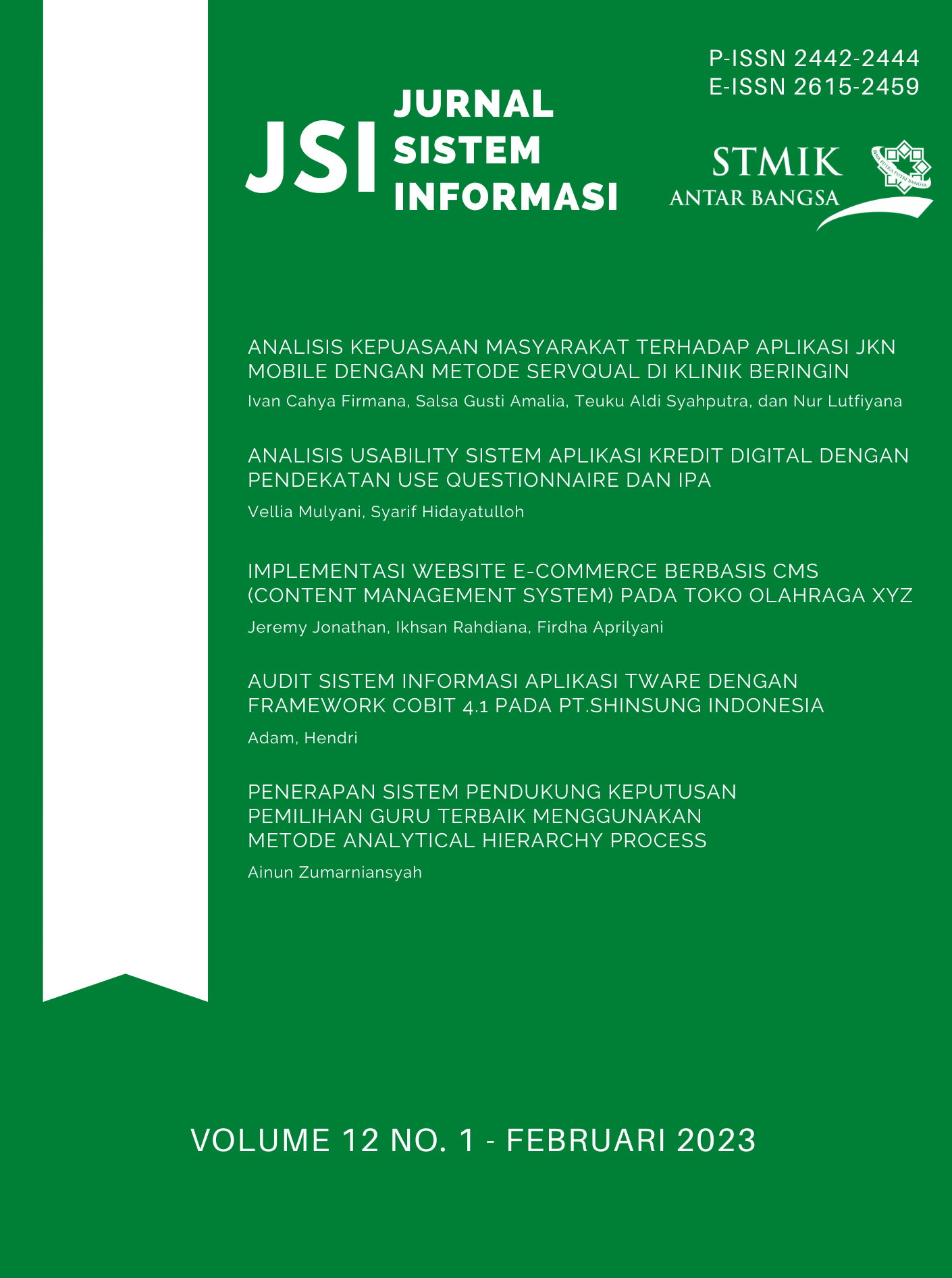 Unduhan
Lisensi
Hak Cipta (c) 2023 Ainun Zumarniansyah
Artikel ini berlisensi Creative Commons Attribution-NonCommercial 4.0 International License.