Audit Sistem Informasi Aplikasi Tware Pada PT Shinsung Indonesia Dengan menggunakan Framework Cobit 4.0
Abstrak
Abstract— This research was conducted to determine the representation of the level of maturity of Information Technology Governance used in accordance with the standards and objectives of the company. This study aims to provide an assessment of PT. Shinsung Indonesia related to the information technology used by referring to the existing domain in the COBIT 4.1 framework and can be used as recommendation data for decisions that will be taken in the future regarding the information technology used. This research uses quantitative methods. Data were collected by using questionnaires and interviews. Respondents in this study were 27 people who came from IT and non-IT divisions. Based on the discussion of the research results indicate that the level of maturity of the problem management process in the information system of PT. Shinsung Indonesia is currently at the level of 3.97. In the current condition, the implementation of the existing information system at PT. Shinsung Indonesia has been implemented quite well. Where the procedures used by the company have been standardized properly.
Keywords— Maturity Level, Information Technology, Cobit
Intisari— Penelitian ini dilakukan untuk mengetahui representasi tingkat kematangan Tata Kelola Teknologi Informasi yang digunakan sudah sesuai dengan standard dan tujuan perusahaan. Penelitian ini bertujuan untuk memberikan penilaian kepada PT. Shinsung Indonesia terkait teknologi informasi yang digunakan dengan mengacu pada domain yang ada pada framework cobit 4.1, dan dapat menjadi data rekomendasi keputusan yang akan diambil kedepan terkait teknologi informasi yang digunakan.Penelitian ini menggunakan metode kuantitatif. Data dikumpulkan dengan teknik kuesioner dan wawancara. Responden dalam penelitian ini sebanyak 27 orang yang berasal dari divisi IT dan non IT.  Berdasarkan pembahasan hasil penelitian menunjukan bahwa tingkat kematangan proses pengelolaan permasalahan pada sistem informasi PT. Shinsung Indonesia saat ini berada pada tingkat 3,97. Pada kondisi saat ini, penerapan sistem informasi yang ada di PT.. Shinsung Indonesia sudah diterapkan dengan cukup baik. Dimana prosedure yang digunakan oleh perusahaan telah distandarisasi dengan baik.
Kata Kunci : Tingkat Kematangan, Teknologi Informasi, Cobit
Unduhan
Data unduhan belum tersedia.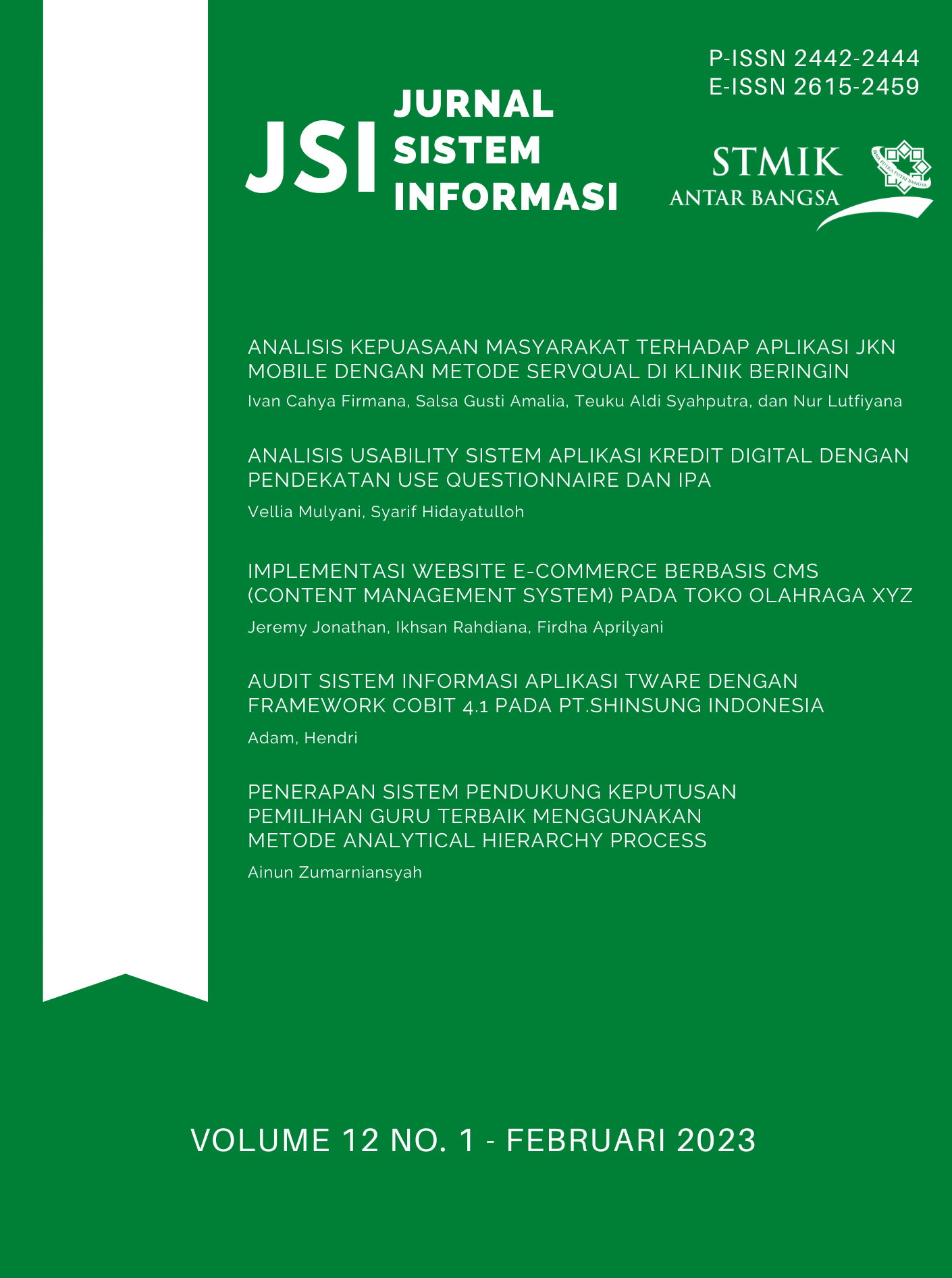 Unduhan
Lisensi
Hak Cipta (c) 2023 adam, Hendri M.kom
Artikel ini berlisensi Creative Commons Attribution-NonCommercial 4.0 International License.