PEMANFAATAN INTERNET SEBAGAI SARANA KOMUNIKASI DAN SHARING INFORMASI KOMUNITAS JAYARAYA DIVING CLUB
Abstrak
Abstract— Diving Club is a community of divers who come from backgrounds different and similar in nature are interested in activities through the open bottom of the water. Currently diving club already has a blog that can be used for discussion and debriefing. However, this blog is still not sufficient to be a place of discussion. Incomplete facility is also a blog of its own shortcomings. In addition, discussions on this blog is still poorly organized because there is no discussion of categories that can be selected to suit the topics covered. The purpose of this study was to Build a web-based information system that can be used as a means of communication and sharing of information for members of the diving club that provides convenience to members to manage forums, events and information in accordance with the wishes of diving club that can not be obtained through the blog. The results of this study the creation of a web-based information systems community forum diving club with an interactive display and can be used as a medium of communication, discussion and information sharing among community members diving club.
 
Intisari— Diving Club merupakan komunitas penyelam yang berasl dari latar belakang yang berbeda-beda dan memiliki kesamaan dalam meminati kegiatan melalui alam terbuka bawah air. Saat ini diving club sudah memiliki sebuah blog yang dapat digunakan untuk melakukan diskusi maupun tanya jawab. Akan tetapi, blog ini dirasa masih kurang memadai untuk dijadikan tempat berdiskusi. Kurang lengkapnya fasilitas blog tersebut juga menjadi kekurangan tersendiri. Selain itu, diskusi pada blog ini masih kurang terorganisir karena tidak terdapat kategori-kategori diskusi yang dapat dipilih untuk menyesuaikan dengan topik yang dibahas. Tujuan dari penelitian ini adalah Membangun sebuah sistem informasi berbasis web yang dapat digunakan sebagai sarana komunikasi dan sharing informasi bagi para anggota diving club yang memberikan kemudahan kepada para anggota untuk mengelola forum, kegiatan dan informasi sesuai dengan keinginan diving club yang tidak bisa didapatkan melalui blog. Hasilnya dari penelitian ini terciptanya sebuah sistem informasi forum berbasis web komunitas diving club dengan tampilan yang interaktif dan dapat digunakan sebagai media komunikasi, diskusi dan berbagi informasi antar anggota komunitas diving club.
 
Kata kunci : Penjualan, Informasi, Pakaian, Website
Unduhan
Data unduhan belum tersedia.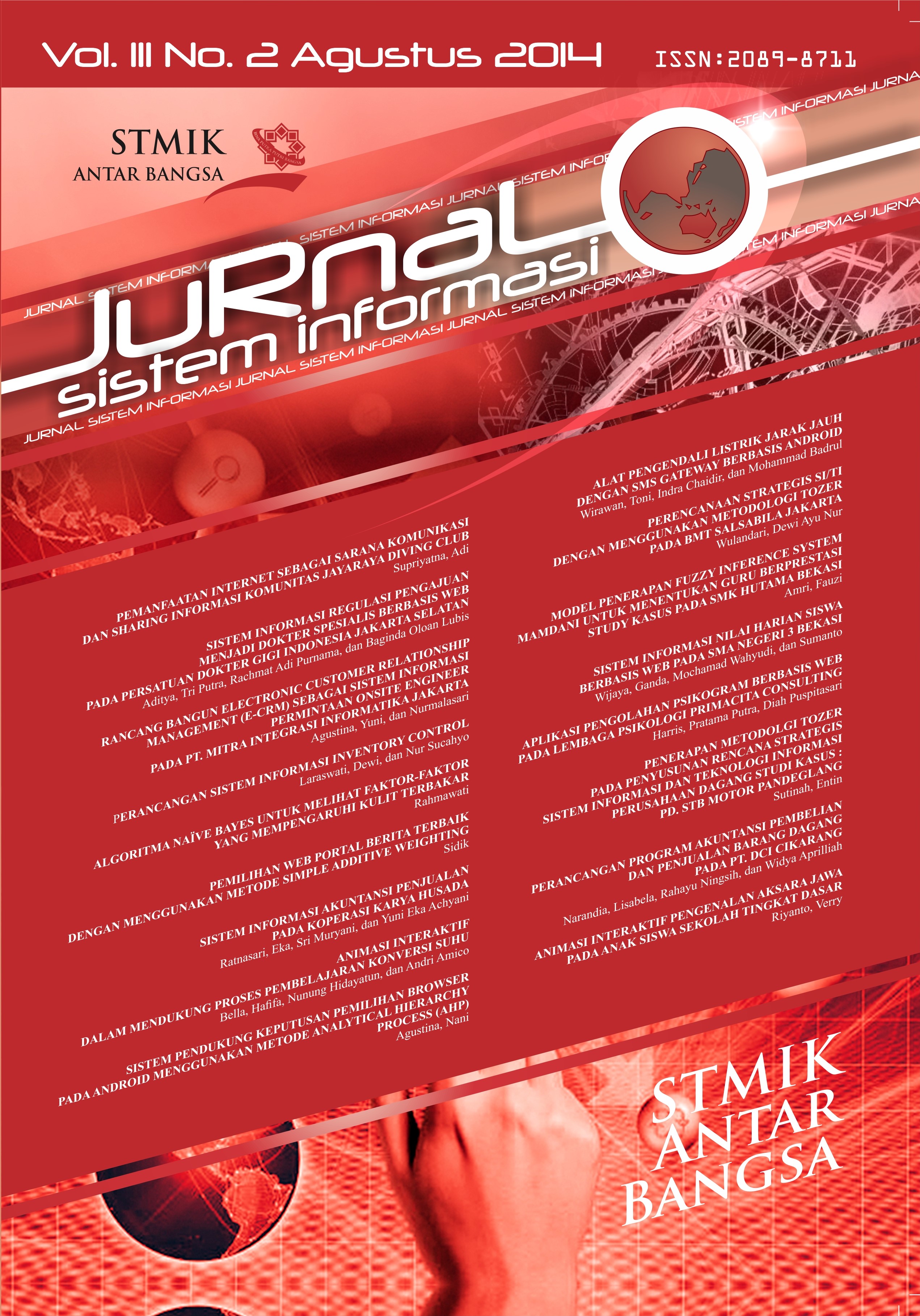 Unduhan