E-Absensi Berbasis QR-Code Dengan Extreme Programming
Abstrak
Abstract-Employee attendance is one of the important aspects in managing human resources in a company. Also has a role in terms of condition or assessment of employee work discipline and payroll calculations that are carried out every month. The research problem found in the object of research is that attendance recording is done by using printed sheets of paper written with stationery by employees. It has an impact on the monthly attendance recapitulation process, or even prone to damage and loss of physical attendance files. The purpose of this study is to design an attendance application that can record attendance data through a QR-Code scan and the data is stored automatically in the database. This research method uses extreme programming software development methods, and the results obtained are the benefits of data storage automation in the prepared database, so that the attendance process becomes transparent and report recapitulation is better because data retrieval can be done faster.
Keywords— Employee Attendance, QR-Code, Extreme Programming, Database
Intisari - Absensi karyawan merupakan salah satu aspek penting dalam pengelolaan sumber daya manusia dalam suatu perusahaan. Memiliki peranan pula dalam hal kondite atau penilaian terhadap kedisiplinan kerja karayawan dan perhitungan penggajian yang dilakukan setiap bulan. Permasalahan penelitian yang ditemukan pada objek penelitian yaitu perekaman absensi dilakukan dengan menggunakan cetakan lembar kertas yang ditulis dengan alat tulis oleh karyawan. Berdampak kepada proses rekapitulasi absensi setiap bulan, atau bahkan rawan terjadinya kerusakan dan kehilangan berkas fisik absensi. Tujuan dari penelitian ini adalah merancang bangun suatu aplikasi absensi yang dapat melakukan perekaman data absensi melalui scan QR-Code dan data tersimpan secara otomatis pada basis data. Metode penelitian ini menggunakan metode pengembangan perangkat lunak extreme programming, dan didapatkan hasil penelitian yaitu kemanfaatan otomatisasi penyimpanan data pada basis data yang disiapkan, sehingga proses absensi menjadi transparan dan rekapitulasi laporan lebih baik karena pencarian data dapat lebih cepat dilakukan.
Kata Kunci— Absensi Karyawan, QR-Code, Extreme Programming, Basis Data
Unduhan
Data unduhan belum tersedia.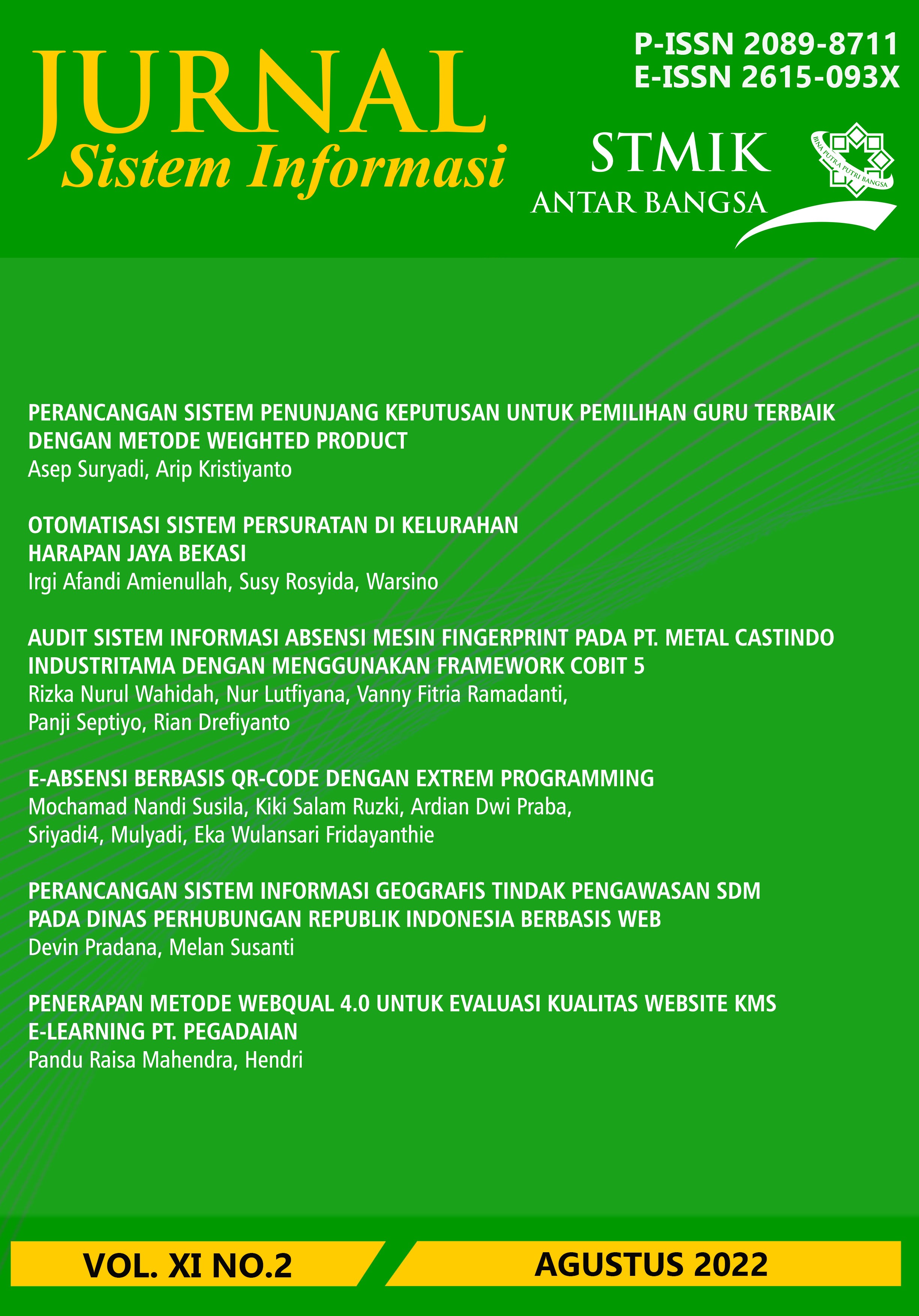 Unduhan
Lisensi
Hak Cipta (c) 2022 Mochamad Nandi Susila, Kiki Salam Ruzki, Ardian Dwi Praba, Sriyadi, Mulyadi, Eka Wulansari Fridayanthie
Artikel ini berlisensi Creative Commons Attribution-NonCommercial 4.0 International License.