SISTEM INFORMASI AKADEMIK BERBASIS WEB PADA SMK TARUNA BANGSA BEKASI
Abstrak
Abstract— Academic activities is a process where the educational activities that do require information on their activities quickly. But in fact not a few obstacles that occur. This is because often there is accumulation of student data and student data made it difficult to search if any time the data was required, it takes a long time in making a report student data, registration of students into the academic value of students' academic and book value into the report cards and also make the report academic students should be left to the head of school, time constraints of parents so that information about the academic is not obtained quickly, the lack of a media campaign that led to the lack of academic information obtained by the parents and students, the unavailability of other media in recording the student's academic so that parents or students in knowing the information students need to wait for the
distribution of report cards, through research is expected to build a computer-based academic information system that can minimize the disadvantages that occur so as to meet the information needs for teachers, students to the wider community.
Intisari— Kegiatan akademik merupakan proses dimana dilakukannya kegiatan pendidikan yang pada aktivitasnya memerlukan informasi yang cepat. Akan tetapi dalam faktanya tidak sedikit kendala yang terjadi. Hal ini karena sering terjadi penumpukan data siswa dan mengakibatkan sulitnya pencarian data siswa apabila sewaktu-waktu data itu diperlukan, dibutuhkan waktu yang cukup lama dalam membuat laporan data siswa, pencatatan nilai akademik siswa kedalam buku nilai akademik siswa serta kedalam raport dan juga membuat laporan nilai akademik siswa yang harus diserahkan kepada kepala sekolah, keterbatasan waktu orang tua siswa sehingga informasi mengenai akademik tidak didapat dengan cepat, belum adanya media promosi sehingga menyebabkan minimnya informasi akademik yang didapat oleh orang tua siswa dan siswa, belum tersedianya media lain dalam pencatatan nilai akademik siswa sehingga orang tua siswa ataupun siswa didalam mengetahui informasi nilai siswa harus menunggu saat pembagian raport, melalui penelitian ini diharapkan dapat membangun sebuah sistem informasi akademik berbasis komputer yang dapat meminimalisasikan kekurangan yang terjadi sehingga dapat memenuhi kebutuhan informasi bagi para guru, siswa hingga masyarakat luas.
Unduhan
Data unduhan belum tersedia.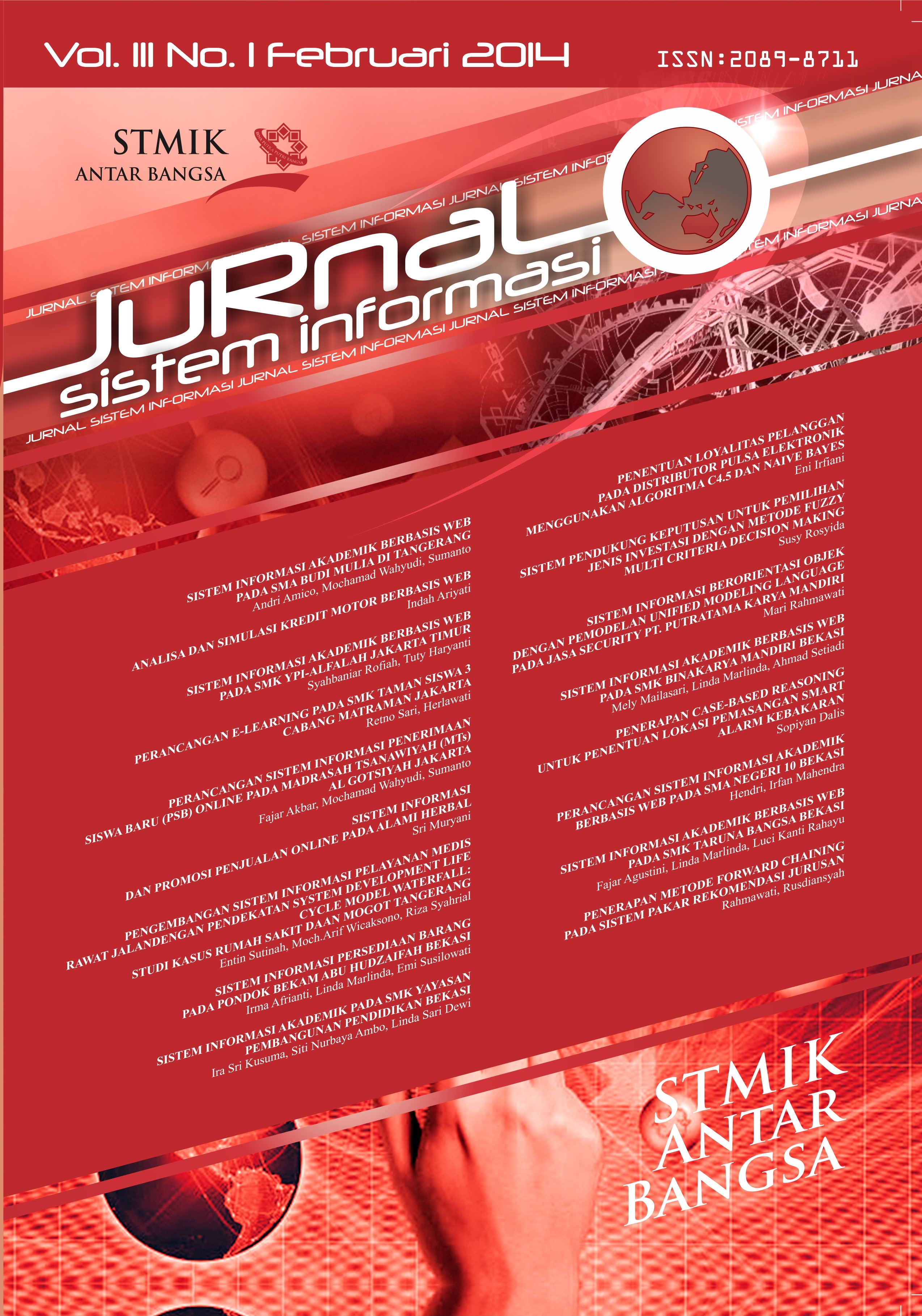 Unduhan
Lisensi
Hak Cipta (c) 2021 Fajar Agustini, Linda Marlinda, Luci Kanti Rahayu
Artikel ini berlisensi Creative Commons Attribution-NonCommercial 4.0 International License.