PERANCANGAN SISTEM INFORMASI AKADEMIK BERBASIS WEB PADA SMA NEGERI 10 BEKASI
Abstrak
Abstract— Academic information system is a web -based system that provides information about the school's academic . SMA Negeri 10 Bekasi is one of the schools that do not have a computerized information system , so as to obtain the information of parents , students , and the community must come to school. Schools that do not have this information system is considered very requires web-based academic information system in order to provide convenience to parents , students and the public in obtaining information . Software development method used is the Waterfall method. With web-based academic information system is expected to help resolve the problems . Parents and students do not need to come directly to the school to seek and obtain the required information . Thus helping to provide information quickly and accurately.
Intisari—Sistem informasi akademik berbasis web adalah sistem yang memberikan informasi seputar akademik sekolah. SMA Negeri 10 Bekasi adalah salah satu sekolah yang belum memiliki sistem informasi yang terkomputerisasi, sehingga untuk mendapatkan informasi orangtua, siswa, dan masyarakat harus datang ke sekolah. Sekolah yang belum memiliki sistem informasi ini dirasa sangat memerlukan sistem informasi akademik berbasis web guna memberikan kemudahan kepada orangtua, siswa dan masyarakat dalam memperoleh informasi. Metode pengembangan perangkat lunak yang digunakan yaitu metode Waterfall. Dengan Sistem informasi akademik berbasis web ini diharapkan dapat dapat membantu menyelesaikan permasalahan. Orang tua dan siswa tidak perlu datang langsung ke sekolah untuk mencari dan mendapatkan informasi yang dibutuhkan. Sehingga membantu memberikan informasi secara cepat dan tepat.
Unduhan
Data unduhan belum tersedia.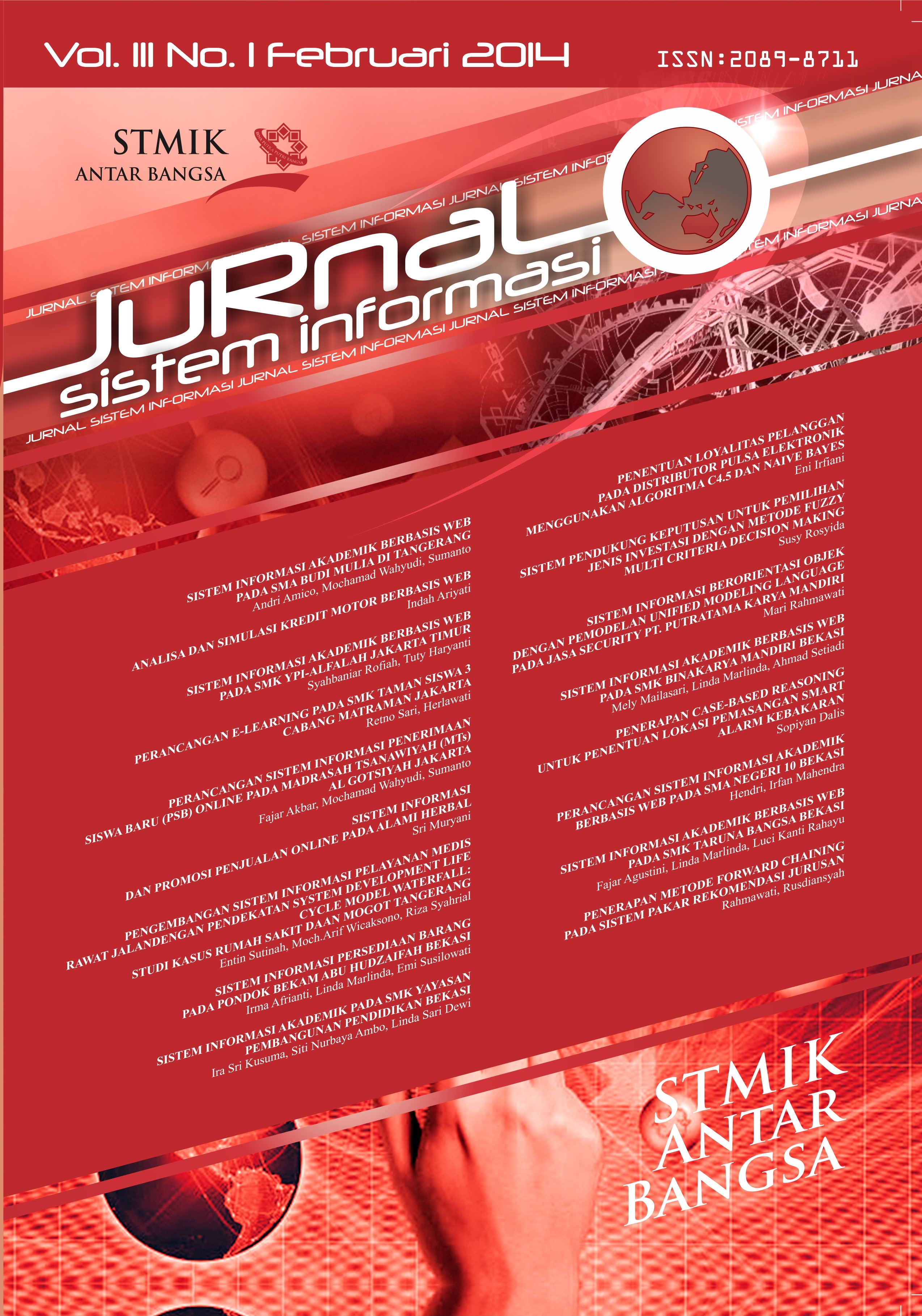 Unduhan
Lisensi
Hak Cipta (c) 2021 Hendri, Irfan Mahendra
Artikel ini berlisensi Creative Commons Attribution-NonCommercial 4.0 International License.