PENERAPAN CASE-BASED REASONING UNTUK PENENTUAN LOKASI PEMASANGAN SMART ALARM KEBAKARAN
Abstrak
Abstract— Fire is one of the concerns the citizens of Jakarta. In addition to causing substantial material damage, even hundreds of residents who are victims. One of the efforts made by the Jakarta administration is the installation of fire prevention equipment in fire-prone areas are connected via the telephone in the home residents with firefighters are smart alarm. But these efforts are constrained because there are several factors for the installation of smart alarms that are not met by the residents. This paper discusses the determination of the location of the installation of smart alarms to help firefighters wag to tackle the spread of fire to many houses. Taken from the cases determining the location of the previous installation of smart alarm as the experience for firefighters. Therefore, the implementation of the system of Case-Base Reasoning (CBR) to the Nearest Neighbor algorithm approach is most appropriate, because this system will take the experience from past cases similar to the value of proximity.
Intisari— Kebakaran merupakan salah satu kekhawatiran warga Jakarta. Selain menimbulkan kerugian material yang cukup besar, bahkan sudah ratusan warga yang menjadi korban. Salah satu upaya yang dilakukan oleh pemerintah DKI Jakarta adalah dengan pemasangan alat penanggulangan bahaya kebakaran di daerah rawan kebakaran yang terhubung melalui pesawat telepon di rumah warga dengan petugas pemadam kebakaran yaitu smart alarm. Namun upaya tersebut terkendala dikarenakan ada beberapa faktor untuk pemasangan smart alarm yang tidak dipenuhi oleh warga. Makalah ini membahas mengenai penentuan lokasi pemasangan smart alarm agar dapat membantu petugas pemadam kebaran untuk menanggulangi bahaya kebakaran yang merebak ke banyak rumah warga. Diambil dari kasus-kasus penentuan lokasi pemasangan smart alarm terdahulu sebagai pengalaman bagi petugas pemadam kebakaran. Oleh karena itu, penerapan dari sistem Case-Base Reasoning (CBR) dengan pendekatan algoritma Nearest Neighbor adalah yang paling tepat, dikarenakan sistem ini akan mengambil pengalaman dari beberapa kasus lampau dengan nilai kedekatan yang mirip.
Unduhan
Data unduhan belum tersedia.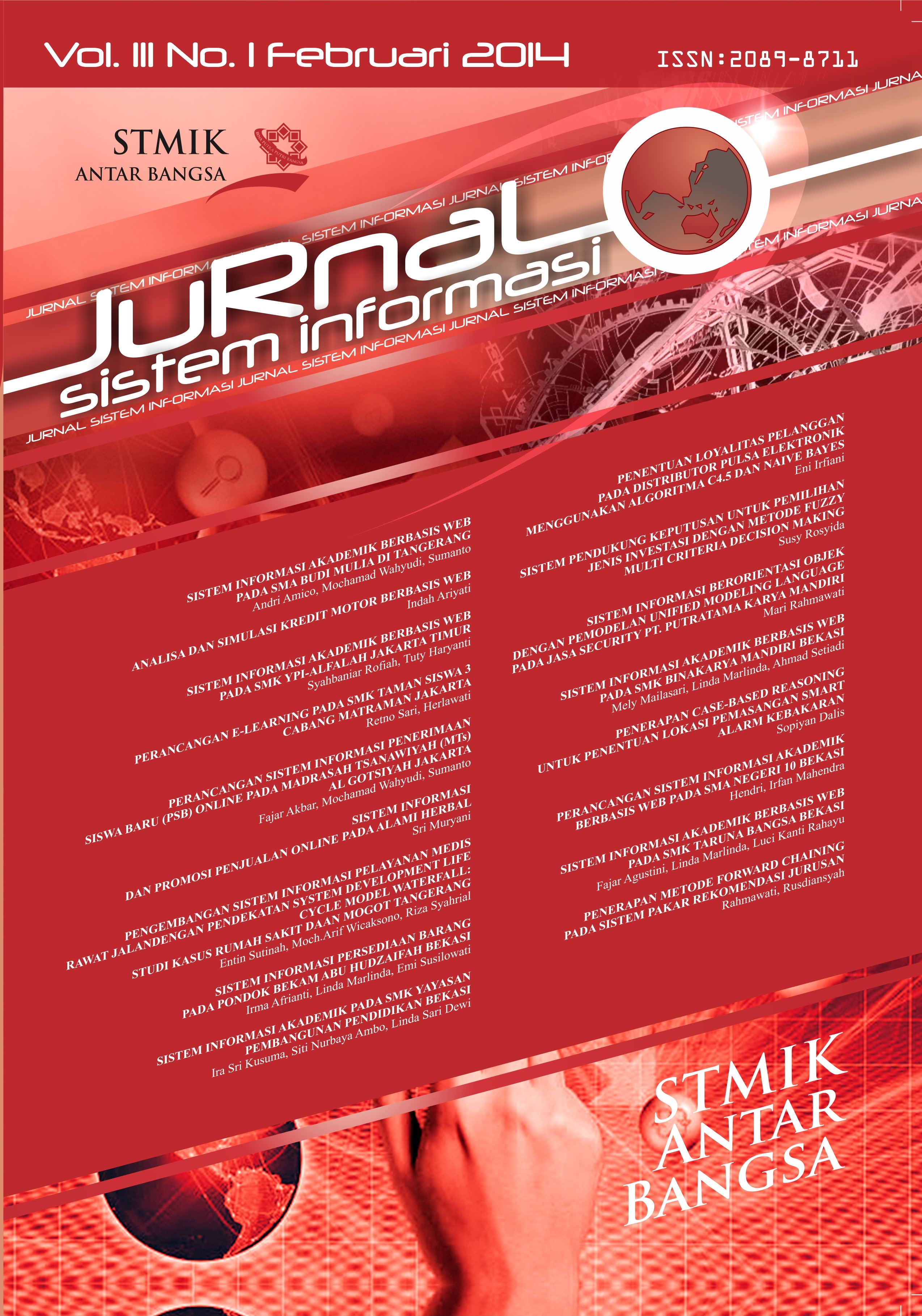 Unduhan
Lisensi
Hak Cipta (c) 2021 Sopiyan Dalis
Artikel ini berlisensi Creative Commons Attribution-NonCommercial 4.0 International License.