SISTEM INFORMASI BERORIENTASI OBJEK DENGAN PEMODELAN UNIFIED MODELING LANGUAGE PADA JASA SECURITY PT. PUTRATAMA KARYA MANDIRI
Abstrak
Abstract—In a corporate environment the computer is an absolute tool used for the implementation of computerbased information systems become an absolute necessity and can provide a competitive advantage, so it gets high priorities. With the Unified Modeling Language (UML) to support the description and design of software systems, especially systems that are built using object-oriented programming. To achieve progress in terms of services and facilitate the work, it is necessary to repair, especially in companies engaged in services as one of the security services. Start of the process of securing approval of a proposal by the company's service users, Recruitment security (security), selection, training, job placement company security personnel to service users through the reporting process.
Intisari—Didalam lingkungan perusahaan komputer adalah alat mutlak yang dipergunakan untuk penerapan sistem informasi yang berbasis komputer menjadi kebutuhan yang mutlak dan dapat memberikan keunggulan kompetitif, sehingga mendapat perioritas yang tinggi. Dengan adanya Unified Modeling Language (UML) dapat membantu pendeskripsian dan desain sistem perangkat lunak, khususnya sistem yang dibangun menggunakan pemrograman berorientasi objek. Untuk mencapai kemajuan dalam hal pelayanan dan mempermudah pekerjaan, maka perlu diadakan perbaikan terutama pada perusahaan-perusahaan yang bergerak dibidang jasa seperti salah satunya jasa pengamanan. Mulai dari proses disetujuinya proposal pengamanan oleh perusahaan pengguna jasa, penerimaan tenaga pengamanan (security), seleksi, pelatihan, penempatan tugas tenaga pengamanan ke perusahaan pengguna jasa sampai dengan proses pembuatan laporan.
Unduhan
Data unduhan belum tersedia.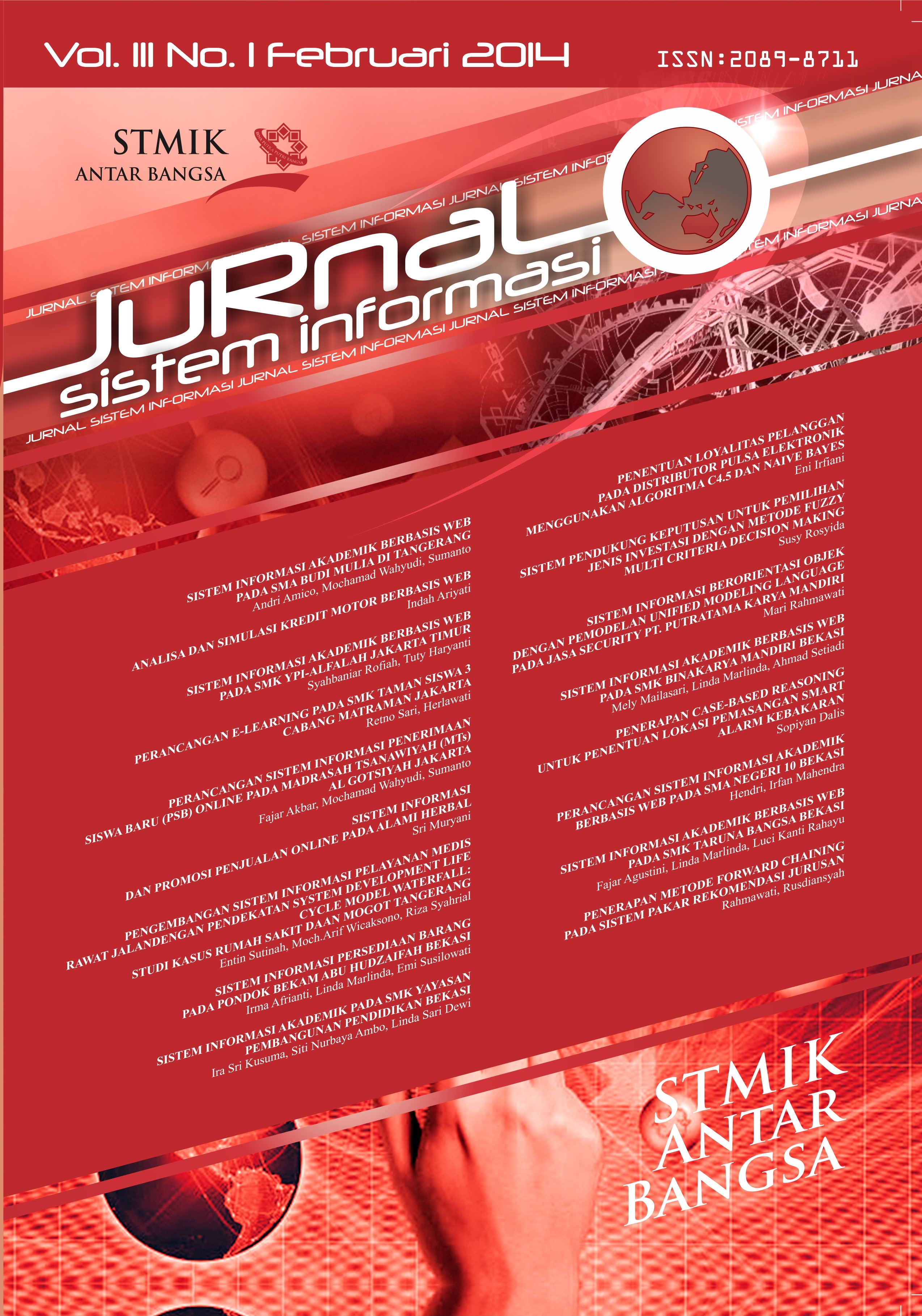 Unduhan
Lisensi
Hak Cipta (c) 2021 Mari Rahmawati
Artikel ini berlisensi Creative Commons Attribution-NonCommercial 4.0 International License.