SISTEM INFORMASI PERSEDIAAN BARANG PADA PONDOK BEKAM ABU HUDZAIFAH BEKASI
Abstrak
Abstract— Pondok Bekam Abu Hudzaifah is a place in the fields of business services cupping and selling herbal medicines and islamic books .Of the more that it will be offered by the company offered the service for the satisfaction of their customers, both for the result of services provided and also for the inventorying system. The increasing activities in a the company means the more data and reports to be handled, one of which on data processing of the supplies or inventory .The number of data shall be procceed without the proper data processing's techniques can be a problem, for example it was a data redudances or even lost the datas permanently. By using the Waterfall Method, writer mean to make and to design an inventory information system that can be reducing the system that is added to an inventory of goods in Pondok Bekam Abu Hudzaifah with using programming language Microsoft Visual Basic 6.0 and MySQL to more effectively and efficiently.

Intisari— Pondok Bekam Abu Hudzaifah merupakan sebuah tempat usaha yang bergerak dibidang Jasa Bekam dan penjualan obat-obatan herbal dan buku-buku Islam. Kelebihan yang ditawarkan perusahaan ini berupa pelayanan terhadap kepuasan customer-customernya baik berupa hasil dari jasa yang disediakan maupun pelayanan persediaan barang. Semakin meningkatnya kegiatan yang ada dalam suatu perusahaan tersebut, maka semakin banyak data dan laporan yang harus ditangani, salah satunya mengenai pengolahan data persediaan barang. Banyaknya data yang harus diolah tanpa teknik pengolahan data yang tepat dapat menjadi masalah, contohnya adalah terjadinya kerangkapan data atau bahkan kehilangan data secara permanen. Dengan menggunakan metode Waterfall, penulis bermaksud membuat dan merancang suatu sistem informasi persediaan barang yang dapat mengatasi kendala yang terdapat pada sistem persediaan barang pada Pondok Bekam Abu Hudzaifah dengan menggunakan bahasa pemprograman Visual Basic 6.0 dan MySQL agar pengelolaan data dan laporan akan menjadi lebih efektif dan efisien.
Unduhan
Data unduhan belum tersedia.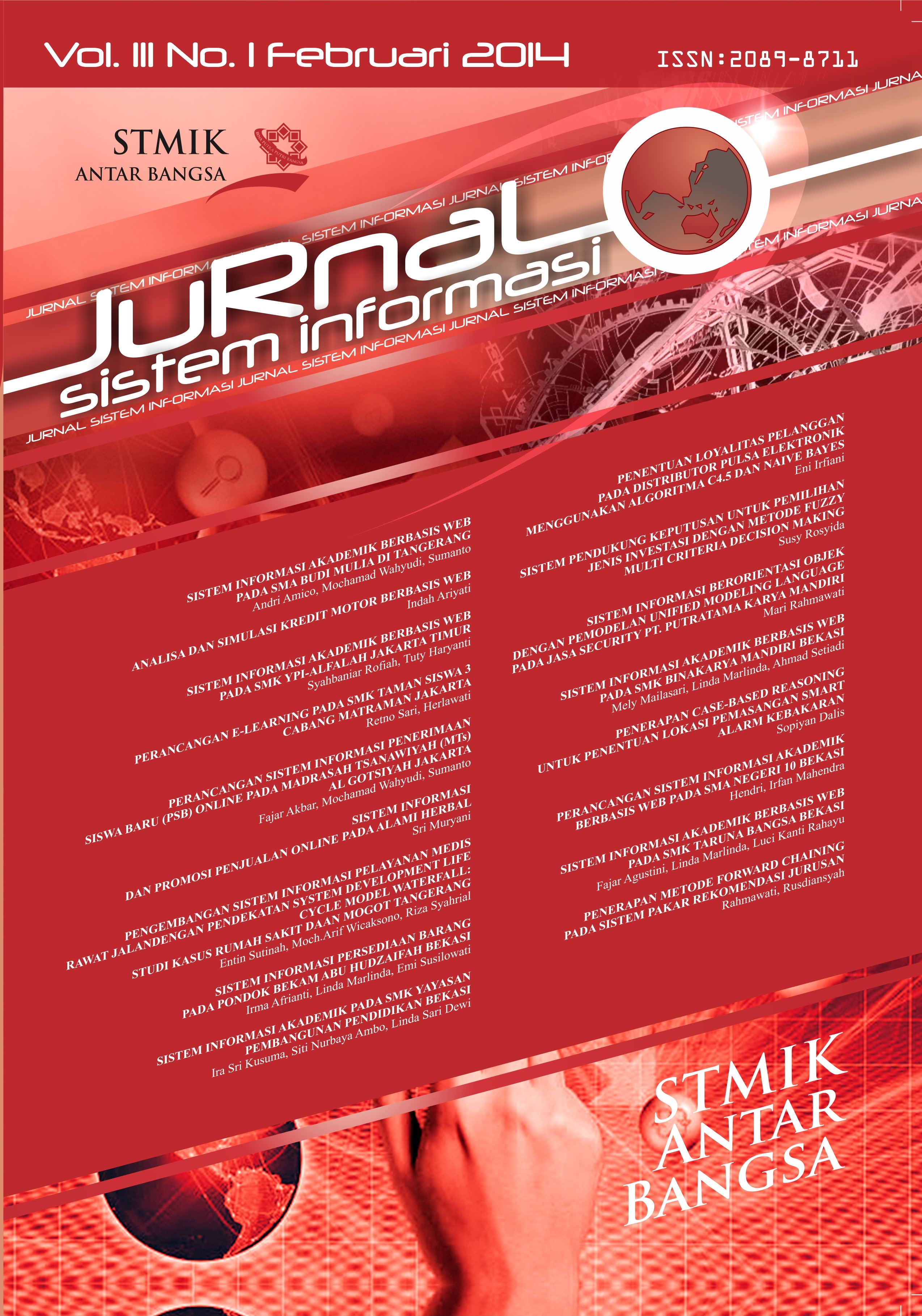 Unduhan
Lisensi
Hak Cipta (c) 2021 Irma Afrianti, Linda Marlinda, Emi Susilowati
Artikel ini berlisensi Creative Commons Attribution-NonCommercial 4.0 International License.