PERANCANGAN SISTEM INFORMASI PENERIMAAN SISWA BARU (PSB) ONLINE PADA MADRASAH TSANAWIYAH (MTs) AL GOTSIYAH JAKARTA
Abstrak
Abstract -New Student Accepting System on MTs Al Gaotsiyah Jakarta all this time still utilizes manually, So slows process that happens with about problem aught. About problem which emerges is its a lot of prospective registrant which want to do registration and there are many prospective registrant which just wants to ask information therefore causative bustle happening out of focus service, and less research it officers in does penginputan data. psb's information system online offer trouble-shooting that adequately correct reduce aught constraint, psb's information system online it berbasiskan web becomes each information can at access wherever and whenever, so each student candidate that wants to register while wants to do registration can do online ala, so can settle constraint and ketrbatasan whatever available on MTs Al Gaotsiyah Jakarta.
Intisari - Sistem penerimaan siswa baru (PSB) pada MTs Al Gaotsiyah Jakarta selama ini masih menggunakan secara manual, Sehingga memperlambat proses yang berlangsung dengan permasalahan yang ada. Permasalahan yang muncul adalah banyaknya para calon pendaftar yang ingin melakukan
pendaftaran dan banyak para calon pendaftar yang hanya ingin menanyakan informasi maka terjadi keramaian yang menyebabkan kurang fokusnya pelayanan, dan kurang telitinya para petugas dalam melakukan penginputan data. Sistem informasi psb online menawarkan pemecahan masalah yang
cukup tepat mengurangi kendala yang ada, sistem informasi psb online ini berbasiskan web jadi setiap informasi bisa di akses dimanapun dan kapanpun, jadi setiap calon siswa yang mau mendaftar ketika mau melakukan pendaftaran bisa dilakukan secara online, sehinggga bisa mengatasi kendala dan keterbatasan yang ada pada MTs Al Gaotsiyah Jakarta.
Unduhan
Data unduhan belum tersedia.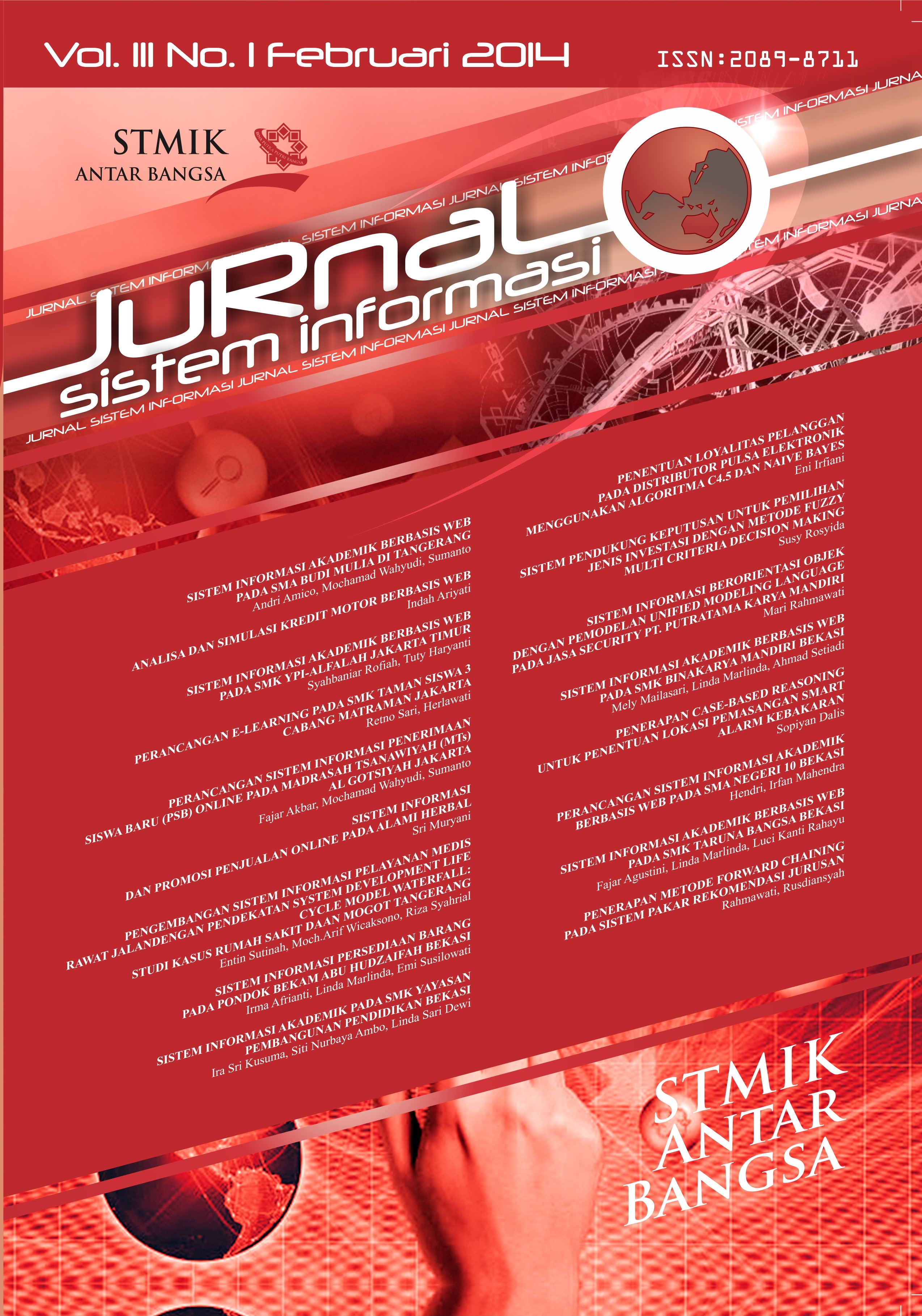 Unduhan
Lisensi
Hak Cipta (c) 2021 Fajar Akbar, Mochamad Wahyudi, Sumanto
Artikel ini berlisensi Creative Commons Attribution-NonCommercial 4.0 International License.