PERANCANGAN E-LEARNING PADA SMK TAMANSISWA 3 CABANG MATRAMAN JAKARTA
Abstrak
Abstract— How to learn is one key factor for menentukkan final result. With a fun way to learn and can be done anywhere, lets add to the spirit of student learning. With the current development of science and technology school can create a website to facilitate students in learning activities. Schools can create e-learning website that allows students to learn independently, which is expected to enhance the spirit of learning. The website can be made with the facilities that support student learning. with these authors make a thesis about the design of e-learning in SMK Tamansiswa 3 Cabang Matraman using PHP and MYSQL. With this website can facilitate students to learn independently, teachers can easily provide the materials and data processing can be done properly and accurately.
Intisari— Cara belajar merupakan salah satu faktor utama untuk menentukkan hasil akhir. Dengan cara belajar yang menyenangkan dan dapat dilakukan dimana saja, memungkinkan menambah semangat belajar siswa. Dengan perkembangan IPTEK saat ini sekolah dapat membuat website untuk memudahkan para siswa dalam kegiatan belajar. Sekolah dapat membuat website e-learning yang memungkinkan siswa belajar mandiri, sehingga diharapkan dapat meningkatkan semangat belajar. website tersebut dapat dibuat dengan fasilitas-fasilitas yang mendukung siswa dalam belajar. dengan ini penulis membuat skripsi mengenai perancangan e-learning pada SMK Tamansiswa 3 cabang matraman dengan menggunakan PHP dan MYSQL. Dengan adanya website ini dapat memudahkan para siswa untuk belajar secara mandiri, guru dapat dengan mudah memberikan materi dan pengolah data dapat dilakukan dengan tepat dan akurat.
Unduhan
Data unduhan belum tersedia.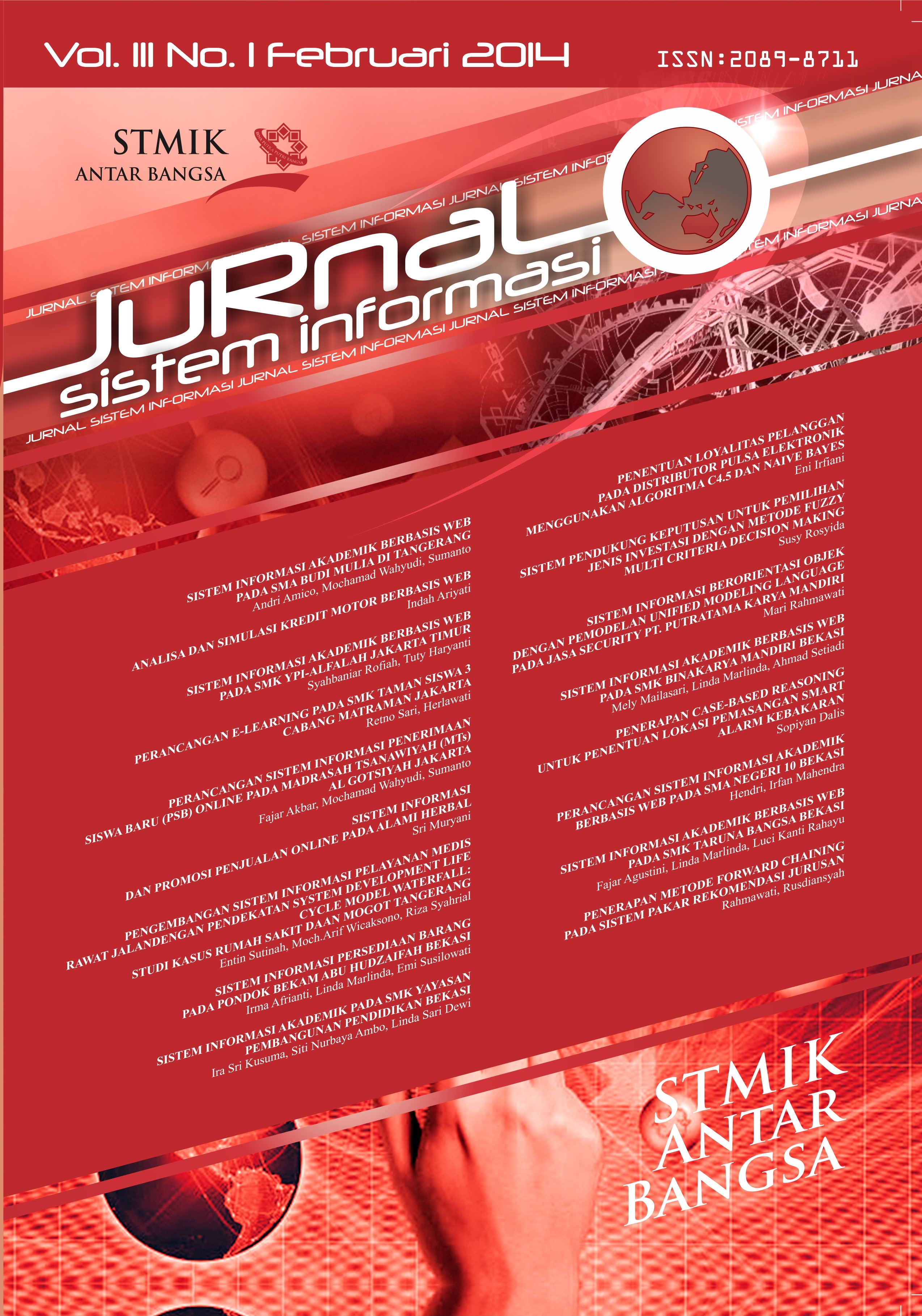 Unduhan
Lisensi
Hak Cipta (c) 2021 Retno Sari, Herlawati
Artikel ini berlisensi Creative Commons Attribution-NonCommercial 4.0 International License.