SISTEM INFORMASI AKADEMIK BERBASIS WEB PADA SMK YPI-ALFALAH JAKARTA TIMUR
Abstrak
Abstract -- Making a website about academic information system is one way to develop the existing school management system, with the system, schools can inform and manage the value of the good. So with the website of the academic information systems students, teachers, and visitors can find information about the schools directly. Schools can also process data and student grades quickly, effectively and efficiently. Academic information system contained in vocational schools YPI-Alfalah in entering data (input), change, and display data (output) reported only gets direct administration resulting in inaccurate reports as well as teachers and students must come to school to get information about value or data required. Such information system is less effective in the management of the school, in order to provide convenience both to inform students and teachers needed liveliness management system.
Intisari — Pembuatan website tentang sistem informasi akademik merupakan salah satu cara untuk mengembangkan sistem manajemen yang ada disekolah, dengan adanya sistem tersebut, sekolah dapat menginformasikan dan mengelola nilai dengan baik. Sehingga dengan adanya website sistem informasi akademik tersebut siswa, guru, serta pengunjung dapat mengetahui informasi tentang sekolah secara langsung. Sekolah juga dapat melakukan dan mengolah data nilai siswa dengan cepat, efektif dan efisien. Sistem informasi akademik yang terdapat di sekolah SMK YPI-Alfalah dalam memasukkan data (input), mengubah, dan menampilkan data (output) hanya dilaporkan kebagian administrasi secara langsung sehingga menghasilkan laporan yang tidak akurat serta guru dan siswa harus datang ke sekolah untuk mendapatkan informasi tentang nilai atau data-data yang dibutuhkan. Sistem informasi seperti ini kurang efektif dalam manajemen sekolah, guna memberikan kemudahan baik dalam menginformasikan keaktifan siswa dan pengajar dibutuhkan sistem manajemen.
Unduhan
Data unduhan belum tersedia.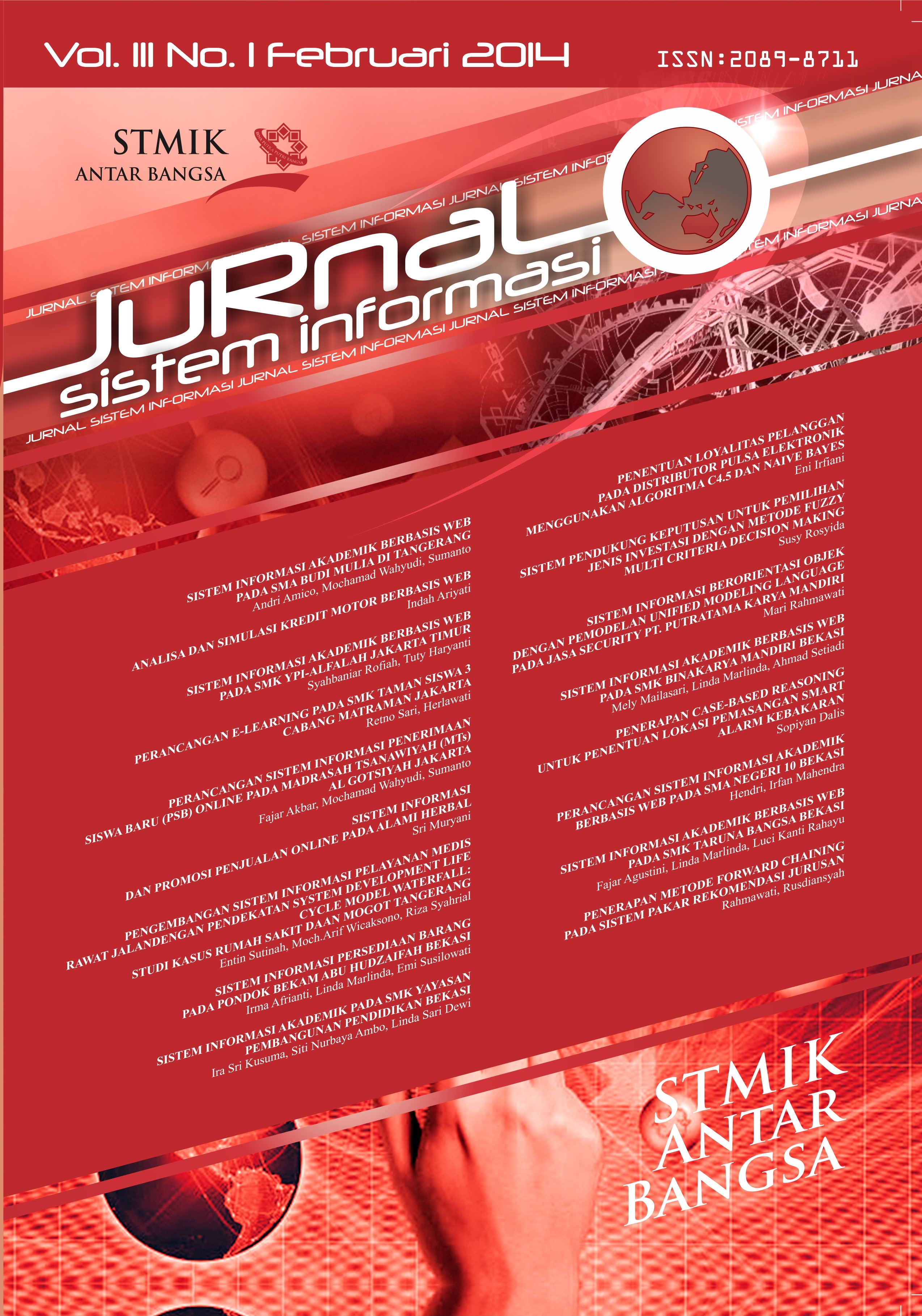 Unduhan
Lisensi
Hak Cipta (c) 2021 Syahbaniar Rofiah, Tuty Haryanti
Artikel ini berlisensi Creative Commons Attribution-NonCommercial 4.0 International License.