ANALISA DAN SIMULASI KREDIT MOTOR BERBASIS WEB
Abstrak
Abstract— The development of the information system via the Internet is used as a means of improving information in almost all areas of business , both areas of commerce , industry and services . Making the web-based information systems as a means of promotion is effective and efficient and easily accessible to internet users . The authors designed a website on credit analysis motor poured in question-a question that often arises when the credit application the motor . The website can also be used to apply for credit motorcycle . For users who would apply for credit motorcycle loan can perform simulations as a benchmark or a provisional estimate for the data-data related to motor loans . The authors designed the analysis and simulation of motors credit by using the web -based programming language PHP and MySQL to perform credit simulations themselves and do their own credit analysis online.
Intisari—Perkembangan sistem informasi melalui internet dimanfaatkan sebagai sarana peningkatan informasi dihampir semua bidang usaha, baik bidang perdagangan, industri maupun jasa. Pembuatan sistem informasi berbasis web sebagai sarana promosi yang efektif dan efisien serta mudah diakses oleh pengguna internet. Penulis merancang website tentang analisa kredit motor yang dituangkan dalam pertanyaan–pertanyaan yang sering muncul pada saat pengajuan kredit motor. Website tersebut bisa juga digunakan untuk mengajukan kredit motor. Bagi pengguna yang akan mengajukan kredit motor dapat melakukan simulasi kredit sebagai patokan atau perkiraan sementara untuk data–data yang berkaitan dengan kredit motor. Penulis merancang analisa dan simulasi kredit motor berbasis web dengan menggunakan Bahasa pemrograman PHP dan MySQL untuk melakukan simulasi kredit sendiri dan
melakukan analisa kredit sendiri secara online.
Unduhan
Data unduhan belum tersedia.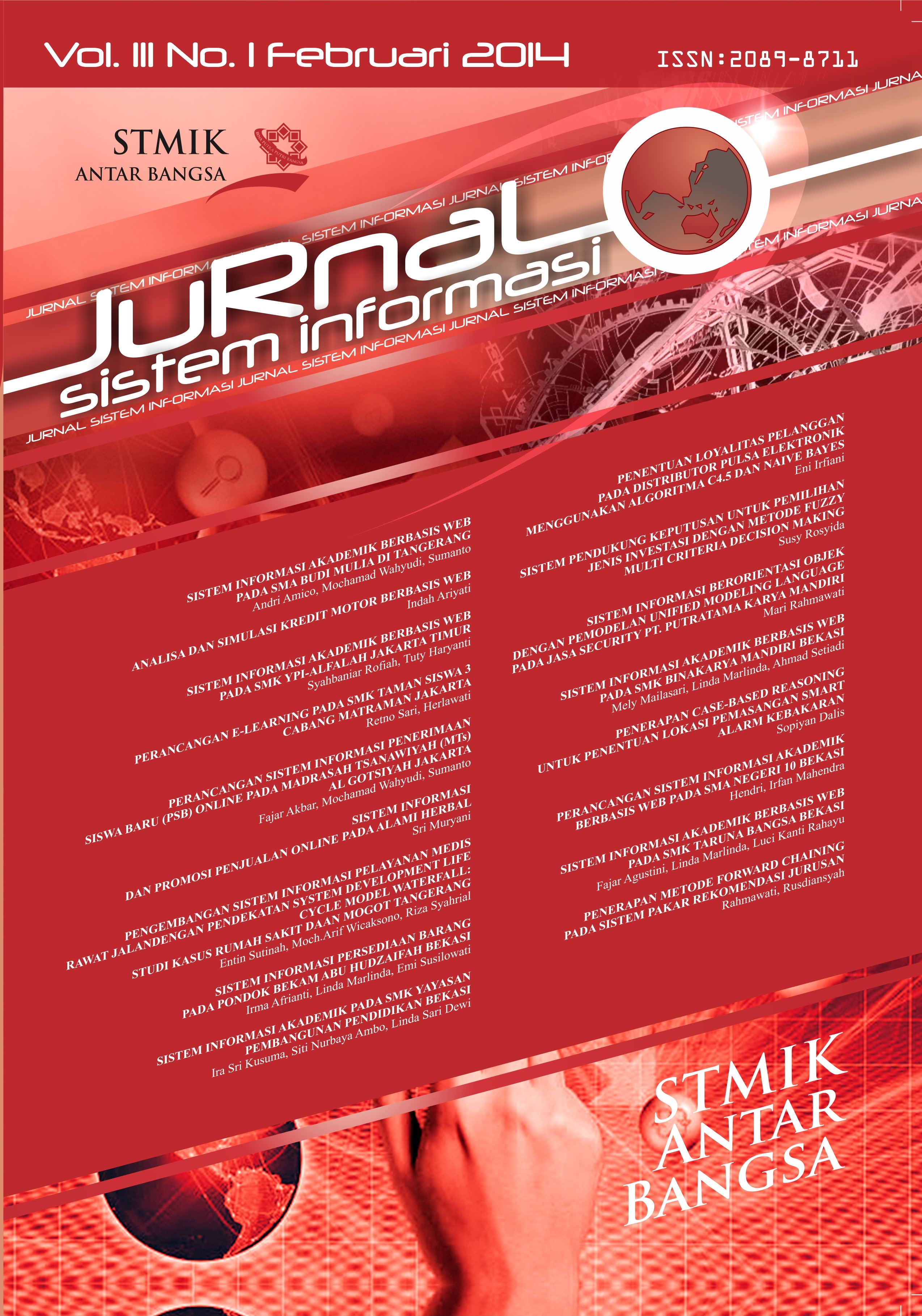 Unduhan
Lisensi
Hak Cipta (c) 2021 Indah Ariyati
Artikel ini berlisensi Creative Commons Attribution-NonCommercial 4.0 International License.