SISTEM INFORMASI AKADEMIK BERBASIS WEB PADA SMA BUDI MULIA DI TANGERANG
Abstrak
Abstract— With growing world of technology, especially Internetbased technologies like Web site where all the desired information can be easily and cheaply obtained. The presence of this academic information system website, is expected to help teachers, students, parents, and communities to obtain actual information about the SMA BUDI MULIA at TANGERANG. In building this system I use support tools with object-oriented methodology is UML because UML supports object-oriented programming languages or OOP (Object Oriented Programming), web applications, PHP and MySQL, while for the photo editor I use Adobe Photoshop CS3 and Adobe Dreamweaver CS3 media to write PHP scripts. Browser, function to view the PHP commands that have been run on a web server. Examples of browsers are: Internet Explorer, Netscape Navigator, Opera, Firefox in this case I use Mozilla Firefox. The system generated from the tools above will be much better in terms of efficiency, effectiveness, reliability and flexibility because UML is an object-oriented programming language. And other tools that are easy to understand because it is easy to learn.
Intisari— Dengan berkembangnya dunia teknologi terutama teknologi berbasis internet seperti website dimana segala informasi yang diinginkan bisa dengan mudah dan murah diperoleh. Hadirnya website sistem informasi akademik ini, diharapkan dapat membantu para guru, siswa, wali murid, dan masyarakat untuk mendapatkan informasi aktual seputar SMA BUDI MULIA DI TANGERANG. Dalam membangun sistem ini penulis menggunakan alat pendukung dengan metodologi yang berorientasi objek yaitu UML karena UML mendukung bahasa pemrograman berorientasi objek atau OOP (Object Oriented Programming), aplikasi web, PHP dan MySQL, sedangkan untuk photo editor penulis menggunakan Adobe Photoshop CS3 dan Adobe Dreamweaver CS3 media untuk menuliskan scripts PHP. Browser, berfungsi untuk melihat tampilan perintah-perintah PHP yang telah dijalankan di web server. Contoh browser yaitu: Internet Explorer, Netscape Navigator, Opera, Firefox dalam hal ini penulis menggunakan Mozilla Firefox. Sistem yang dihasilkan dari tools diatas akan jauh lebih baik dari segi efisiensi, efektifitas, kehandalan dan fleksibilitas karena UML merupakan bahasa pemrograman yang berorientasi objek. Dan tools yang lainnya mudah dipahami karena mudah dipelajari.
Unduhan
Data unduhan belum tersedia.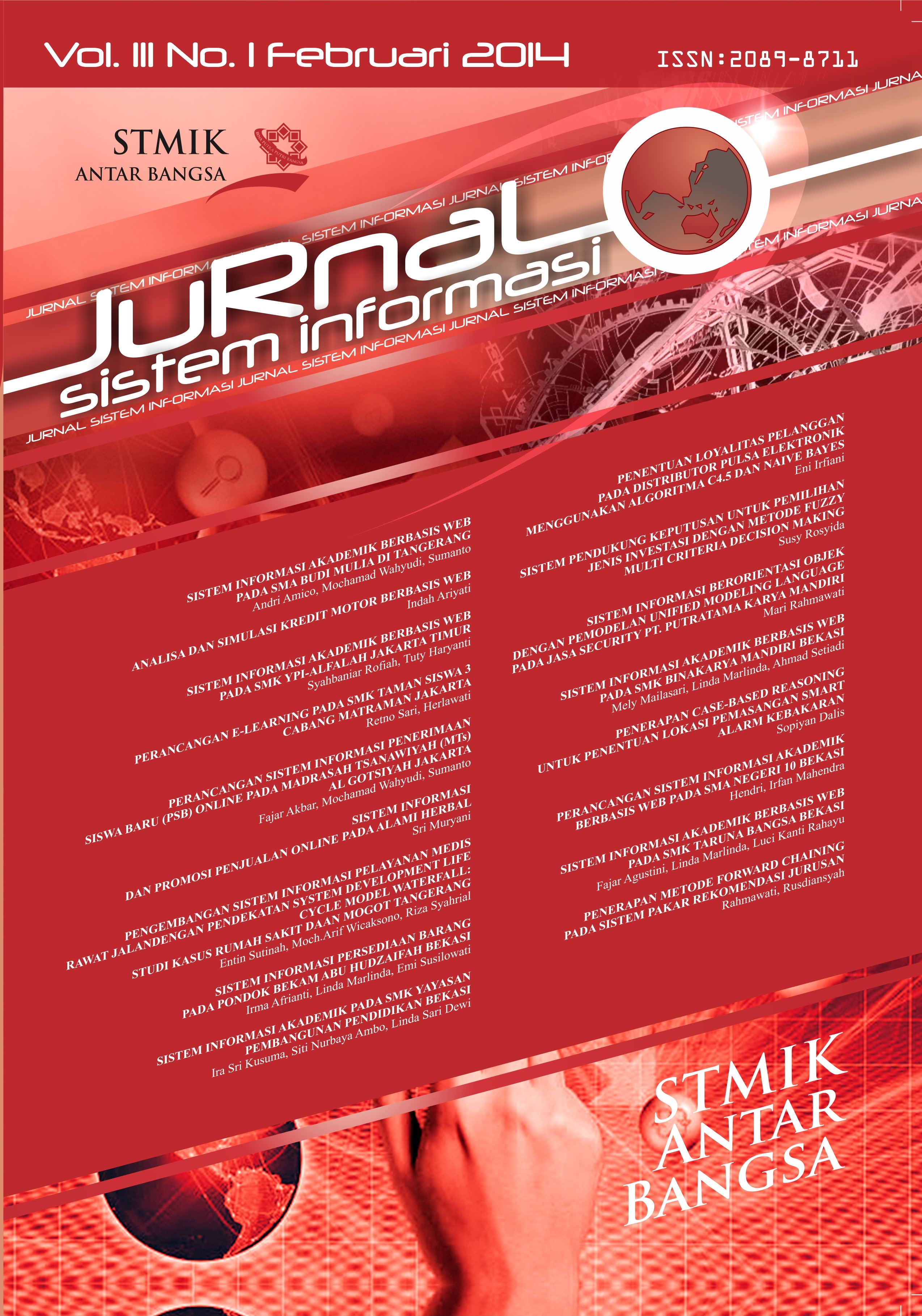 Unduhan
Lisensi
Hak Cipta (c) 2021 Andri Amico, Mochamad Wahyudi, Sumanto
Artikel ini berlisensi Creative Commons Attribution-NonCommercial 4.0 International License.