Perancangan Sistem Informasi Mutasi Siswa Sekolah Dasar Pada Dinas Pendidikan Kota Depok
Abstrak
Abstract— The making of recommendation letter of student mutation submitted by parents and guardian of student, data processing is still done manually and not yet programmed. In its implementation is considered less effective and efficient because the archive is easily scattered and lost. There is often a discrepancy between the records in the ledger and the existing archive.
To get data as object of writing, the writer uses 2 (two) research method, that is software development method and data collection method that is software development method using waterfall model divided into 5 (five) stages, that is analysis, design, coding, and support or maintenance. Data collection method is divided into 3 (three) stages: library study, interview, and observation.
Based on existing problems, if the data processing system of mutation students using online computerized system. Creating a student data processing system mutations become easier, fast and precise. With the online system, Officers will save more time in managing data, save space in data storage, and facilitate in the search data of mutation students.
.Intisari— Pembuatan surat rekomendasi mutasi siswa diajukan oleh orang tua maupun wali murid, pengolahan datanya masih dilakukan secara manual dan belum terprogram. Dalam pelaksanaannya dinilai kurang efektif dan efisien karena arsip mudah tercecer dan hilang. Sering terjadi ketidak sesuaian antara catatan dalam buku besar dengan arsip yang ada. Untuk mendapatkan data sebagai objek penulisan maka penulis menggunakan 2(dua) metode penelitian, yaitu metode pengembangan perangkat lunak dan metode pengumpulan data yaitu metode pengembangan perangkat lunak menggunakan model waterfall terbagi menjadi 5(lima) tahapan, yaitu analisa, desain, pengkodean, pengujian, dan pendukung atau pemeliharaan. Untuk metode pengumpulan data dibagi menjadi 3 (tiga) tahapan yaitu studi pustaka, wawancara, dan observasi. Berdasarkan permasalahan yang ada, apabila sistem pengolahan data siswa mutasi menggunakan sistem yang terkomputerisasi secara online. Membuat sistem pengolahan data siswa mutasi menjadi lebih mudah, cepat dan tepat. Dengan sistem online, Petugas akan lebih menghemat waktu dalam mengelola data, menghemat tempat dalam penyimpanan data, dan memudahkan dalam pencarian data siswa mutasi.
Kata Kunci— Sistem, Sistem Informasi, Mutasi, Sekolah dasar.
Unduhan
Data unduhan belum tersedia.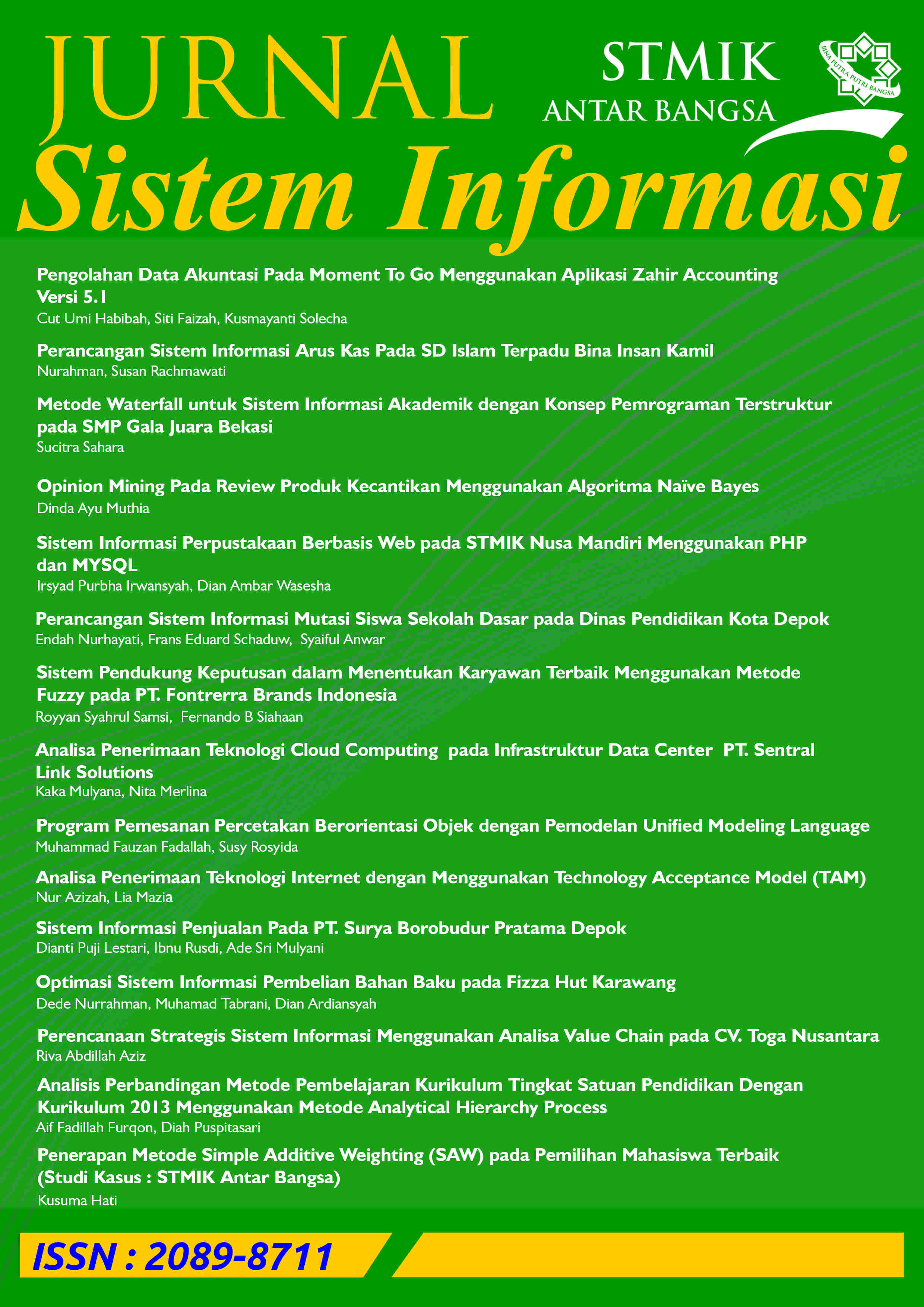 Unduhan