Perancangan Sistem Informasi Arus Kas pada SD Islam Terpadu Bina Insan Kamil
Abstrak
Abstract— SD Islam Terpadu Bina Insan Kamil Depok needs an information system that can support and provide satisfactory service for the students of SD Islam Terpadu Bina Insan Kamil Depok. Currently the existing system in the Integrated Islamic School Bina Insan Kamil Depok is still done manually, ranging from payments to storage of other data related to the process of cash receipts, cash disbursements to reporting, so as to enable errors in the recording and less accurate Reports are also made late in the search for necessary data. A computerized system is the best solution to solve the problems that exist in this school, and with computerized system can be achieved an effective and efficient activities in supporting cash flow activities at this school. Therefore with a computerized system better than a system that is still manual, in order to run more effectively and efficiently and cash flow information system that is now more conducive than the previous system.
Intisari— SD Islam Terpadu Bina Insan Kamil Depok membutuhkan sekali adanya suatu sistem informasi yang dapat menunjang dan memberikan pelayanan yang memuaskan bagi para siswa SD Islam Terpadu Bina Insan Kamil Depok. Saat ini sistem yang ada pada SD Islam Terpadu Bina Insan Kamil Depok ini masih dilakukan secara manual, mulai dari pembayaran sampai penyimpanan data-data lainnya yang berhubungan dengan proses penerimaan kas, pengeluaran kas sampai pembuatan laporan, sehingga memungkinkan terjadi kesalahan dalam pencatatan dan kurang akuratnya laporan yang dibuat juga terlambatnya dalam pencarian data-data yang diperlukan. sistem yang terkomputerisasi merupakan suatu solusi yang terbaik untuk memecahkan permasalahan-permasalahan yang ada pada sekolah ini, serta dengan sistem komputerisasi dapat dicapai suatu kegiatan yang efektif dan efesien dalam menunjang aktifitas arus kas pada sekolah ini. maka dari itu dengan sistem yang terkomputerisasi lebih baik dari sistem yang masih manual, agar berjalan lebih efektif dan efisien serta sistem informasi arus kas yang sekarang lebih kondusif dibandingkan dengan sistem yang terdahulu.
Kata Kunci— Arus Kas, Perancangan Sistem Informasi
Unduhan
Data unduhan belum tersedia.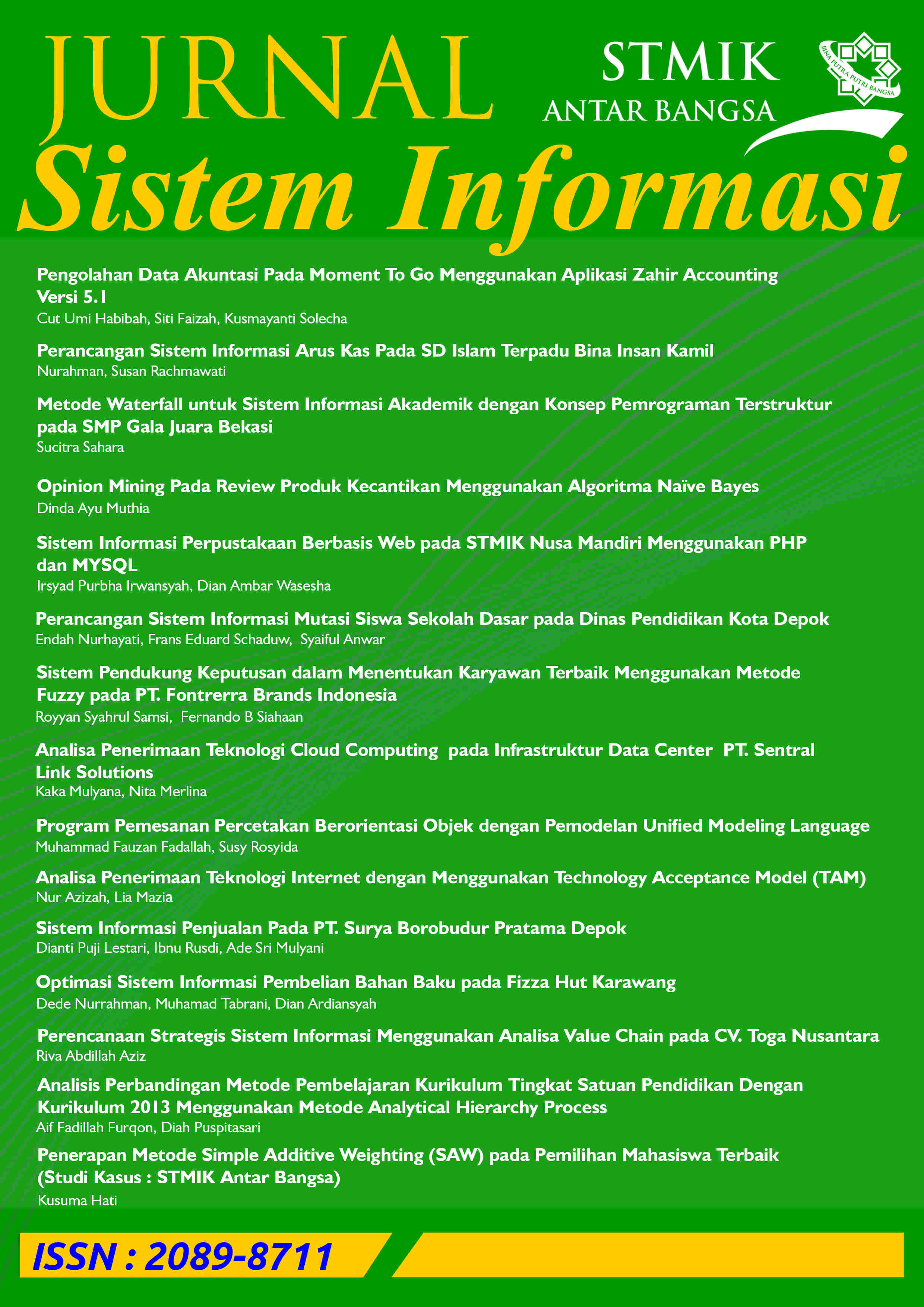 Unduhan