Pengolahan Data Akuntasi pada Moment to Go Menggunakan Aplikasi Zahir Accounting Versi 5.1
Abstrak
Abstract— The need for photography is increasingly in demand by people from society. Photography has a great influence on life. This proves the technology we can not rule out from everyday life. Moments To Go as one of the companies engaged in photography services must also keep up with the times. This makes it require applications that can support the activities in the company, especially on accounting data processing activities. Therefore the author tries to make the final task of Accounting Data Processing on Moments To Go. Accounting recording and preparing financial statements in Moments To Go are still done manually, ranging from storage of data related to the process of sale to purchase, making it possible at the time of the process occurred error in the recording. The use of Zahir Software Version 5.1 is the best solution to solve the existing problems in this company, with a computerized system will achieve an effective and efficient activities in supporting activities in this company. In addition to making accounting records and sales reports are now more neat and accurate..
Intisari— Kebutuhan akan photografi semakin diminati oleh manuasia dari lapisan masyarakat. Photografi memiliki pengaruh yang besar bagi kehidupan. Hal ini membuktikan tekhnologi tidak bisa kita kesampingkan dari kehidupan sehari-hari. Moments To Go sebagai salah satu perusahaan yang bergerak dibidang jasa photografi juga harus mengikuti perkembangan zaman. Hal ini membuatnya membutuhkan aplikasi yang dapat menunjang dalam kegiatan di perusahaan, terutama pada kegiatan pengolahan data akuntansinya. Maka dari itu penulis mencoba membuat tugas akhir mengenai Pengolahan Data Akuntansi pada Moments To Go. Pencatatan akuntansi dan pembuatan laporan keuangan pada Moments To Go masih dilakukan secara manual, mulai dari penyimpanan data- data yang berhubungan dengan proses penjualan hingga pembelian, sehingga memungkinkan pada saat proses berlangsung terjadi kesalahan dalam pencatatan. Penggunaan software Zahir Versi 5.1 merupakan solusi yang terbaik untuk memecahkan permasalaha yang ada pada perusahaan ini, dengan sistem yang terkomputerisasi akan tercapai suatu kegiatan yang efektif dan efisien dalam menunjang aktifitas pada perusahaan ini. Selain itu membuat pencatatan akuntansi dan laporan penjualan yang sekarang lebih rapi dan akurat.
Kata Kunci: Pengolahan data akuntansi, Zahir Accounting.
Unduhan
Data unduhan belum tersedia.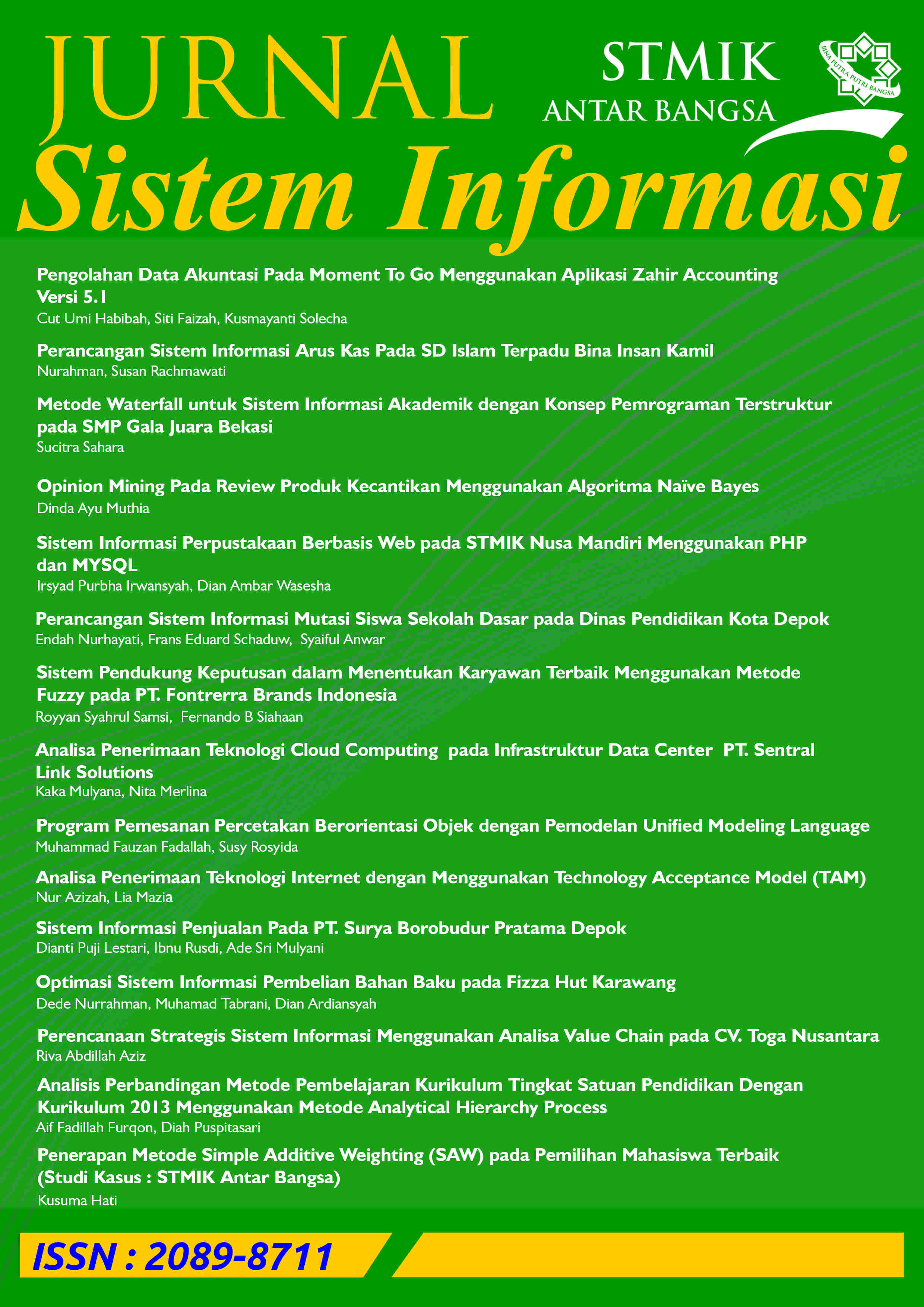 Unduhan