Sistem Pendukung Keputusan Penentuan Proritas Konseling Siswa, Menggunakan Pendekatan AHP-TOPSIS
Abstrak
Abstract—The purpose of this study was to help develop a decision support priority counseling system using the Analitycal Hierarchy Process (AHP) method and Technique For Order Preference by Similarity to Ideal Solution (TOPSIS). Data used in the form of data absenteeism, sociometry, achievement and violation, with the number of respondents 32 people. From the experiment results can be concluded that this method is able to give good results and close to the results of the assessment used by teachers BK. The results of this study closer to the piority that must be given by the students because each assessment criteria has its own weight compared with priority that without weight and only result from the average value only.

 

Intisari— Tujuan dari penelitian ini untuk membantu mengembangkan sebuah sistem pendukung keputusan prioritas konseling dengan menggunakanmetodeAnalitycal Hierarchy Process (AHP) dan Technique For Order Preference by Similarity to Ideal Solution (TOPSIS). Data yang digunakan berupa data absensi, sosiometri, prestasi dan pelanggaran, dengan jumlah responden 32 orang.  Dari hasil percobaan dapat disimpulkan bahwa metode ini mampu memberikan hasil yang baik dan mendekati hasil dari penilaian yang digunakan oleh guru BK.  Hasil penelitian ini lebih mendekati p[rioritas yang harus diberikan oleh siswa karena setiap kriteria penilaiannya memiliki bobot tersendiri dibandingkan dengan prioritas yang tanpa bobot dan hanya dihasilkan dari nilai rata-rata saja.

 

Kata Kunci— Sistem,Pendukung,Keputusan, Konseling, AHP-TOPSIS.
Unduhan
Data unduhan belum tersedia.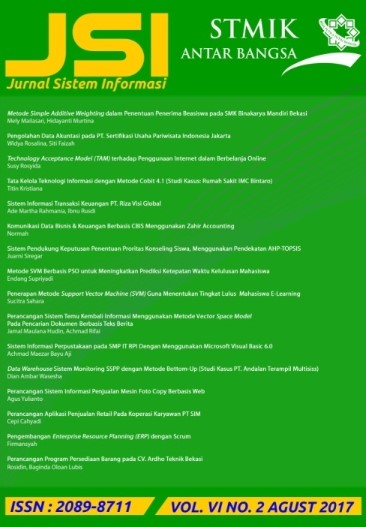 Unduhan