Analisis Kepuasaan Masyarakat terhadap Penggunaan Aplikasi JKN Mobile dengan Menggunakan Metode Servqual Di Klinik Beringin
Abstrak
Abstract— The Social Security Administering Body (BPJS) as the provider of national health insurance for all Indonesians seeks to improve the service system for all BPJS Health participants. BPJS Health innovates by launching the JKN Mobile application, with the JKN Mobile application is expected to be able to provide convenience for users to get more optimal services. With the JKN Mobile application, it is also hoped that users can access various kinds of information related to JKN programs easily and quickly and can access them anytime and anywhere. The results obtained are Cronbach's Alpha value for the perception of 0.970. This shows that the value of Cronbach's Alpha is greater than 0.60. So it can be concluded that it has reliable results. This study aims to determine the relationship between services on the JKN Mobile application and the level of satisfaction of BPJS Health users at Beringin Clinicl.
Keyword—BPJS Health, Service, Satisfaction, Servqual Method
Intisari— Badan Penyelenggara Jaminan Sosial (BPJS) sebagai penyelenggara jaminan kesehatan nasional untuk seluruh masyarakat Indonesia berupaya untuk meningkatkan sistem layanan bagi seluruh peserta BPJS Kesehatan. BPJS Kesehatan melakukan inovasi dengan meluncurkan aplikasi JKN Mobile, dengan adanya aplikasi JKN Mobile ini diharapkan mampu memberikan kemudahan kepada pengguna untuk mendapatkan pelayanan yang lebih optimal. Dengan adanya aplikasi JKN Mobile ini diharapkan juga pengguna dapat mengakses berbagai macam informasi terkait program-program JKN dengan mudah dan cepat serta dapat mengakses kapanpun dan dimanapun. Penelitian ini bertujuan untuk mengetahui hubungan pelayanan pada aplikasi JKN Mobile dengan tingkat kepuasan pengguna BPJS Kesehatan di Klinik Beringin.
Kata Kunci — BPJS Kesehatan, Pelayanan, Kepuasan, Metode Servqual
Unduhan
Data unduhan belum tersedia.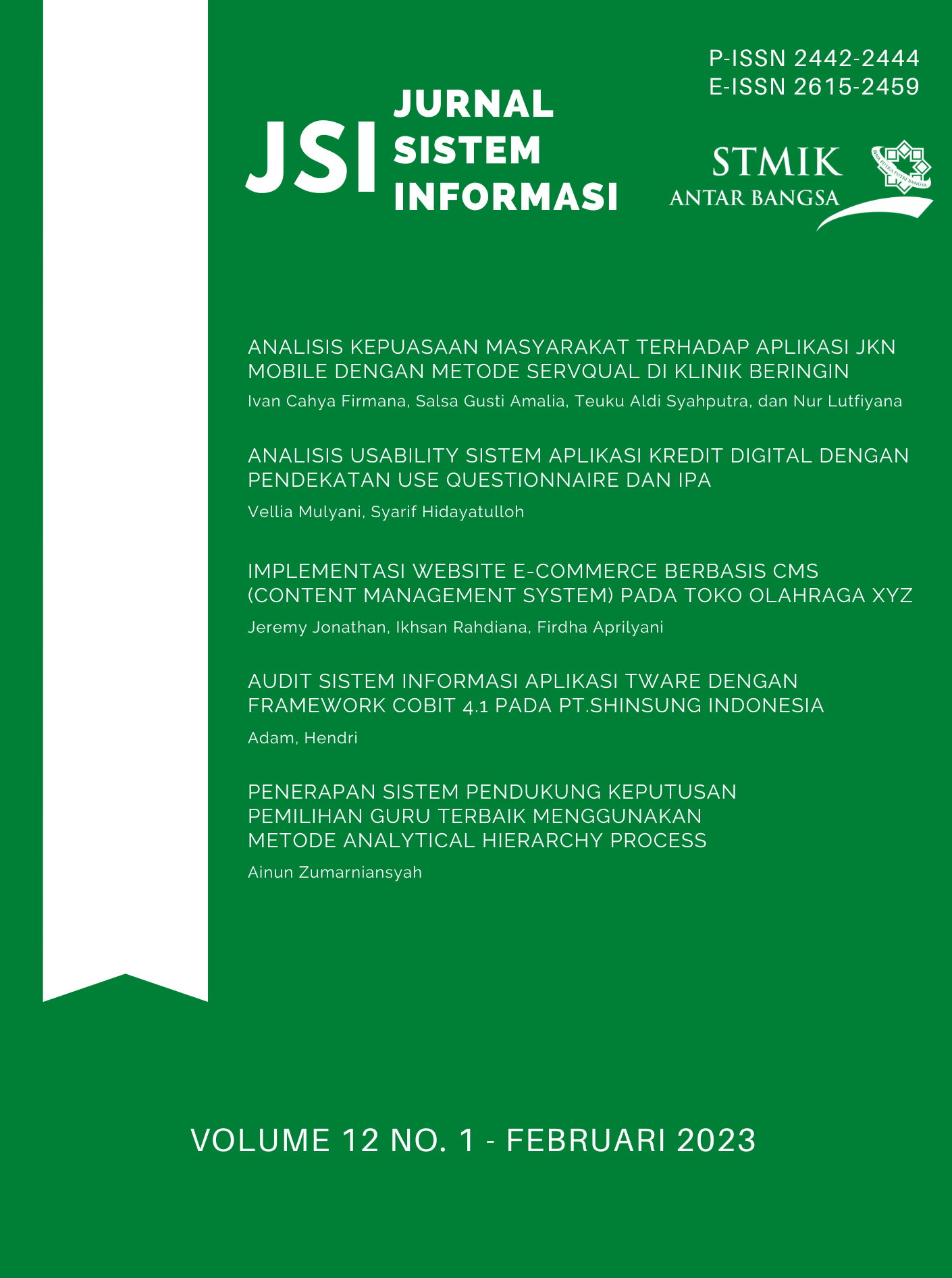 Unduhan
Lisensi
Hak Cipta (c) 2023 Nur Lutfiyana, Ivan Cahya FirmanA, Salsa Gusti Amalia, Teuku Aldi Syahputra
Artikel ini berlisensi Creative Commons Attribution-NonCommercial 4.0 International License.